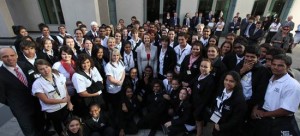 Seven days, 100 students, 26 departments, 96 mps and a couple of sporting legends comprised this year's 'learn earn legend! Work experience with government' program.
The Program brought 100 Aboriginal and Torres Strait Islander students from around Australia to Canberra to see how government works.
Building on the successful pilot run last year, the program saw students participate in work-experience activities in Parliamentarians' offices at Parliament House and in Commonwealth agencies and departments around Canberra.
At the start of the week, students visited Parliament House and were welcomed by the Minister for Indigenous Employment and Economic Development, Senator Mark Arbib, and the Minister for Families, Housing, Community Services and Indigenous Affairs, Jenny Macklin.
During 'Question Time' the students were given a special mention and welcome to Canberra by Prime Minister Julia Gillard.
Jayde Hagan, from Clayfield College, in Brisbane said that they all had an interesting week.
"One of my teachers suggested the program and I applied because I thought it would be a really good experience and it has been," Jayde said.
"Getting behind-the-scenes access to Parliament House and seeing what really goes on – it's not just all the yelling in Question Time. It's really good to see that they all have their special roles."
Benji Waters, from St George in Queensland, is a boarder at Marist College Ashgrove in Brisbane and he said he enjoyed the week, which included mentoring sessions.
"I've got some great contacts and it's going to look great on my résumé. I got put with Barnaby Joyce, and I come from the same town as him. I got a photo with Julia Gillard and met Mark Arbib. We met some great mentors like Scott Prince and Evonne Goolagong Cawley.
"Where I come from, I can see people that need help and I'd love to help out my own people," said Benji.
For some of the students, the program could be the first step in a continuing journey, working in government.
One of the students who came to Canberra last year is now working in Minister Arbib's office, while another works for the Department of Sustainability, Environment, Water, Population and Communities.