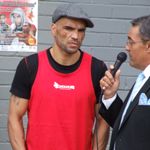 Fresh from his victory over Shannan Taylor, Anthony Mundine is looking forward to watching the next generation of Aboriginal boxing stars in action for the 'Night of Black Stars' at The Block tomorrow.
"I did what I had to do, it got a bit desperate at times and got a bit dirty, but I knew it was going to get dirty so it's all good," said Anthony, speaking about last night's bout.
While he wasn't in any real danger during the fight, Anthony is about to check in for surgery for a troublesome hip injury that's been restricting his training.
"I've booked in for surgery on my hip next week and, hopefully, I'm only going to be out for a month and put my head back to fighting Sturm. I think it's destiny I go back to Germany, but this time as a man, not as a boy," said Mundine.
With a shot at the WBA middleweight title on offer, Mundine also has the lure of a big money rematch with Danny Green and will wait for a suitable offer from Green's camp.
"They're talking about Green at light heavyweight. I'll fight him at heavyweight if he wants because I'll whip him every day of the week because us Kooris we just got talent to burn and if we're talented and disciplined no one can beat us," said the former two-time world champion.
Mundine was in Redfern today, speaking in support of a first-of-its-kind boxing promotions on The Block that will raise money for the Indigenous Boxing Academy.
"I just want to say big ups to Alex Wymarra for putting this event on for Indigenous Australians here at the Block and showcasing all the talent we've got in the area.
"I feel that that the talent in this area is boundless and, like I said, it just takes a bit of discipline, a bit of dedication, and a bit of motivation in the right direction to really make things happen. . . Alex is putting his foot forward and trying to do that for a lot of boys and hopefully they can put on a good show tomorrow night."
The promotion will also feature a 3on3 basketball and music festival in the afternoon, which is open to the whole community.