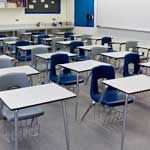 The Rudd government is hoping to boost school enrollment and attendance in some Indigenous communities by introducing a controversial new program linking school attendance to welfare quarantining.
A trial of the program is being rolled out in the Northern Territory and will require parents on welfare from six remote Aboriginal communities to tell Centrelink where their children are enrolled.
If the child fails to attend school, the government can suspend their income support payments.
"Parents who do the right thing and try to get their children to school have nothing to be concerned about," said federal Indigenous Affairs Minister Jenny Macklin on Wednesday.
The two-year trial program has been met with criticism from the NT Education Union who labeled it as discriminatory.
"It's targeting a group of people (and) using fear to get kids to go to school," union spokesman Adam Lampe told ABC Radio in Darwin.
"It's not addressing the issues as to why kids don't go to school. It's a bad policy."
Ms Macklin responded to the concerns saying both Aboriginal and non-Indigenous children will be subject to the program.
Starting in Katherine on Wednesday, the program will be rolled out to other communities, such as Hermannsburg, Wallace Rockhole, Wadeye and the Tiwi Islands.
About 2,000 Aboriginal children are not enrolled in school and another 2,500 fail to attend regularly.
Centrelink is currently visiting all trial communities to inform parents of the school attendance measure.