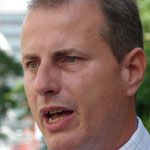 One week into its election campaign, The Northern Territory government has promised $11.7 million over five years to employ 20 early childhood educators.
NT Chief Minister Paul Henderson says he wants to boost Aboriginal literacy and numeracy and also wants the educators to improve health standards and "general wellbeing".
The NT heads to the polls on August 9.
"The educators will work with families to reinforce the importance of good health and reading at home, in getting kids ready for school," said Mr Henderson.
"This program aims to boost attendance by instilling good habits as early as possible."
Mr Henderson's government has recently courted criticism that it has been ignoring Aboriginal voters.
Central Land Council director David Ross last week slammed both major political parties for failing to tailor their policies to those most in need.
"Although its only early days of the Northern Territory election campaign it's been noticeable so far that neither of the major parties has had much interest in making Aboriginal health, education or housing key election issues," he said.
"You'd think with such a revolution in indigenous affairs it'd rate a mention in the first hours let alone the first days of a Northern Territory election campaign."
Labor currently holds 19 of the 25 seats in parliament but is widely tipped to lose at least four.
Speaking today on the Tiwi Islands, north of Darwin, NT Minister for Families and Children and Education Marion Scrymgour said the new funds brought the total amount spent by the government on closing the gap in indigenous disadvantage to almost $300 million.
"We need kids going to school regularly free from hearing difficulties and other health issues and ready to learn," she said.
The educators will be deployed in remote Indigenous communities across the Territory, with Mr Henderson tipping the communities of Borroloola, Maningrida, Yirrkala, Wadeye and Hermannsburg as likely locations.