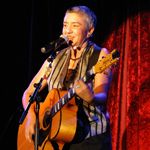 Deadly Vibe Issue 142
"I said do you speaka my language? He just smiled and made me a vegemite sandwich." (Land Down Under, Men at Work, 1984)
Unfortunately not many Australians "speaka the language" of Indigenous Australia. But if musician and actor Lou Bennett has her way, they soon will.
Lou believes that, like our New Zealand counterparts, it's important that all Australians learn at least a few words of one of the many surviving Aboriginal or Torres Strait Islander languages. Instead of saying "as Aussie as a vegemite sandwich", in years to come we may well be saying "as Aussie as Yorta Yorta".
Lou, who is currently studying her Masters in her native Yorta Yorta language, would like to see Indigenous languages become as commonly spoken here as the Maori language is in New Zealand.
"Look at New Zealand," Lou says. "White people there are very proud of being able to speak Maori and to be participants in rituals like the Maori welcome and the Haka.
"We need to instil that pride in our Australian community – it doesn't matter the colour of our skin, we all have a right to the history."
Lou recently embarked on a project with the Brunswick Women's choir to get her language out there.
"The choir decided that they didn't just want to talk about it," Lou says."They wanted to do something active and approached me about writing songs for them in language.
"A few years ago I'd taught them a song called Waka Nini Yana, which translates into 'where are you going?' and they loved singing that song. So I came up with a new song called Manubak Garra, which in my language means 'sleep now', and so that song has come out as a lullaby."
Lou says she has seen first-hand the effect that songs in language can have on those nearest and dearest to her.
"We got to perform the songs earlier this year and my dear old Uncle Wayne came to my show," she says. "When they started singing our language I looked over at him and I saw his chest rise, his shoulders come back and a tear roll down his face. Then he just nodded his head knowingly.
"It brought me to tears, but I think that's my role here on this earth – I'm a messenger between black and white, because I am black and white."
Lou believes it's important for non-Indigenous Australians to start embracing Indigenous languages, as she believes this could help to provide a sense of commonality between white and black Australia.
"When things like language are shared, there is a common ground and there is a sense of pride, but when we exclude that it becomes an 'us and them' situation," she says.
"When you start to include people; when you choose the right people to share your knowledge with, it opens up such a positive place. It's so important for healing and understanding."
Although Lou did not grow up speaking Yorta Yorta, she says she still remembers the few words she heard from her grandmothers, aunties and uncles.
"The words that I do remember were few and far between, but we would say them over and over again," she laughs.
"Growing up in a small country town my first friend was Chinese, my second was Greek and my third was Turkish, and they all spoke their own language. I'd go to my friend's house and they'd speak their language and I'd wish I could go home and speak my language."
While there are a lot more people in the arts now writing theatre and songs in Indigenous languages, Lou would like to see even more language getting out there.
"There's so many simple things that we could do to bring more language into everyday life," says Lou. "For example, when you go into a country town, why not have a sign welcoming people in the local language? Language makes things accessible and acceptable.
"I do a lot of travelling overseas and recently I was coming back from London. When we landed in Melbourne, the pilot said 'Welcome to Melbourne – welcome to the land of the Wurundjeri, the traditional owners of Melbourne'. I burst into tears – it was the first time I'd heard someone on a flight acknowledge Aboriginal people for being traditional custodians.
"That's the sort of thing we need more of. It's time for white Australia to be proud that we have a black history."