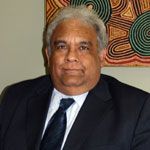 Indigenous leader Tom Calma has revealed a 10- point plan for the Government to improve the intervention in the Northern Territory after claiming the legislation must be substantially amended.
In his fourth annual Social Justice Report, the Commissioner for Aboriginal and Torres Strait Islander Social Justice says that while he supports the intentions of the intervention, he does not support its methods, and believes his own plan could help the Rudd government meet its commitments on Indigenous affairs.
"So long as the NT intervention legislation permits the conduct of racially discriminatory actions, it will lack legitimacy among Aboriginal people and communities as well as the broader Australian society," the report reads.
"It will also leave Australia in breach of its international human rights obligations."
Among the recommendations put forth by Mr Calma is an immediate repeal of all aspects of the intervention which deny procedural fairness and external merits review.
Mr Calma also says parliament should reverse any measures which suspend the protections of the Racial Discrimination Act and that government should be required to obtain consent before taking over the management of Indigenous property.
A review of the operation and effectiveness of the intervention's alcohol management schemes and increasing Indigenous participation is also recommended, as well as a timetable set for the transition from an emergency intervention to a community development plan.