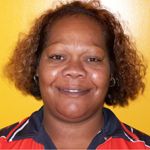 Chris Sandow isn't the only high achiever in his family. Meet his mum, Rhonda.
Rhonda Sandow is on a mission to improve the lives of young Aboriginal and Torres Strait Islander people – in her community and beyond.
Rhonda recently graduated from the Certificate IV in Community Service Protective Care course through Southern Queensland Institute of TAFE, Nurunderi Campus, and the 36-year-old says she is ready to make positive change.
She has been working with youth from Cherbourg and Murgon for the past 16 years, developed an alternative education schedule which has been running for nearly a decade and now has paper qualifications to back up her practical experience.
"There are many struggles we come across in our community and as well as having life experience dealing with issues, now I've got the skills on paper to show I can make a difference," Rhonda says.
Rhonda's son Chris – Deadly Award-winner and halfback for the South Sydney Rabbitohs – is a great source of pride for her, but she knows there are those not afforded these types of opportunities.
"My son is working and earning money, so it's time for me to do something for myself," she says. "This course built my confidence in my role at Cherbourg/Murgon Youth and Community Combined Association and has shown me pathways I didn't know existed.
Rhonda has now started a Diploma of Prevention and Intervention at the Nurunderi Campus.
"I can help young people who are up against hurdles in education, life, family and peer pressure and I want to keep on learning to better myself and people I come in contact with," she says.
Rhonda says the staff at Nurunderi Campus helped her overcome feelings of fear about heading back into a classroom because she didn't finish high school.
"I was really pleased with my teacher," Rhonda says. "I thought she was a lovely woman. I felt really comfortable knowing she was only a phone call away if I needed her.
"I feel like I've gotten over that hurdle of fear and being frightened about study and reckon I can tackle more education."
The Certificate IV in Community Service Protective Care course is a joint project by Southern Queensland Institute of TAFE and the Sunshine Coast Institute of TAFE to encourage more Aboriginal and Torres Strait Islander employment in the area and increase community awareness.
To find out more, head to www.sqit.tafe.qld.gov.au