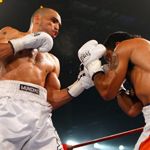 Fighting for only the second time in the middleweight division, Anthony Mundine outpointed Uruguayan opponent Rafael Sosa Pintos over ten rounds at the Whitlam Centre in Sydney's West last night.
While the two time super middleweight champion entered the ring in an unusually subdued mood, once the opening bell sounded the Aboriginal boxer was all business, quickly assuming control of the fight and punishing Pintos with some telling body shots in the early exchanges.
Pintos, living up to all expectations as a rugged and willing opponent was unable to match Mundine's hand speed and movement. Drawing on all the experience of his 33 bout career, the South American proved durable enough to withstand all of Mundine's combinations and take the fight to the score cards.
A left hook in the sixth round was the only significant blow Pintos managed to land throughout the fight and by the eighth the Australian was cruising, showboating to the crowd who became increasingly vocal as the bout wore on.
The unanimous point's decision was Mundine's 34th win of his career and continues his campaign into the middleweight division where he now stands as number one contender for German Felix Sturm's WBA world title. Plans are also underway for Mundine to fight a middleweight bout in the United States on one of Oscar De La Hoya's Golden Boy promotions.
"I was quite nervous before this fight, more nervous than any other fights – it was quite strange," Mundine said after the bout.
"I watched a couple of tapes of this guy and he was a rugged, willing customer and I knew that he was going to come in here and try and take my position.