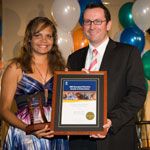 Outstanding Year 12 students from Belmont City College and Kelmscott Senior High School were among 11 winners announced at the 2008 Aboriginal Education Awards of Achievement last month.
Timed to coincide with NAIDOC Week celebrations, the awards recognise outstanding achievements by Aboriginal students and educators across the state.
Elainah Coffin, from Belmont City College and Jordan AhChee, from Kelmscott Senior High School, were named Outstanding Female and Male Aboriginal Students in Year 12.
Western Australia's Education and Training Minister Mark McGowan says that Elainah and Jordan are exceptional leaders in their schools.
"In addition to being in her school's Academic Extension Program, Elainah is the first Aboriginal president of the student council at Belmont City College, and her involvement in the community is remarkable," Minister McGowan says.
"And, as deputy head boy at Kelmscott Senior High School, Jordan is also in his school's Academic Talent Program and is an accomplished team leader on the sports field."
Elainah is also a member of the Follow the Dream program, is studying four TEE (tertiary entrance examination) subjects and hopes to pursue a career in law or teaching, and volunteers with the elderly at the Djarindjin Clinic.
Jordan was a member of the 2007 WA Indigenous under-17 basketball team and won the Best and Fairest award in the national competition. He's also a talented footballer, being a member of the South Fremantle football development squad and captain of the Kelmscott Football Club team.
Other award winners included schools, a deputy principal, a principal, a student club and primary school student Jamaine Ward.
Jamaine is a Year Seven student at Kununurra District High School, where her excellent attendance and participation in voluntary after school classes sets a positive example for other students. As a sports faction leader she helps to organise sporting activities for other students and has represented her school at regional athletics championships.
Jamaine has also performed at the Kimberley Moon Festival with the school's community choir and at local events as a member of the Deadly Blokes and Kids band.
Minister McGowan says all the award winners are examples of the successes being achieved in Aboriginal education in Western Australia.
"These award winners are helping to bring about a culture of excellence in Aboriginal education and they are to be congratulated," he says.