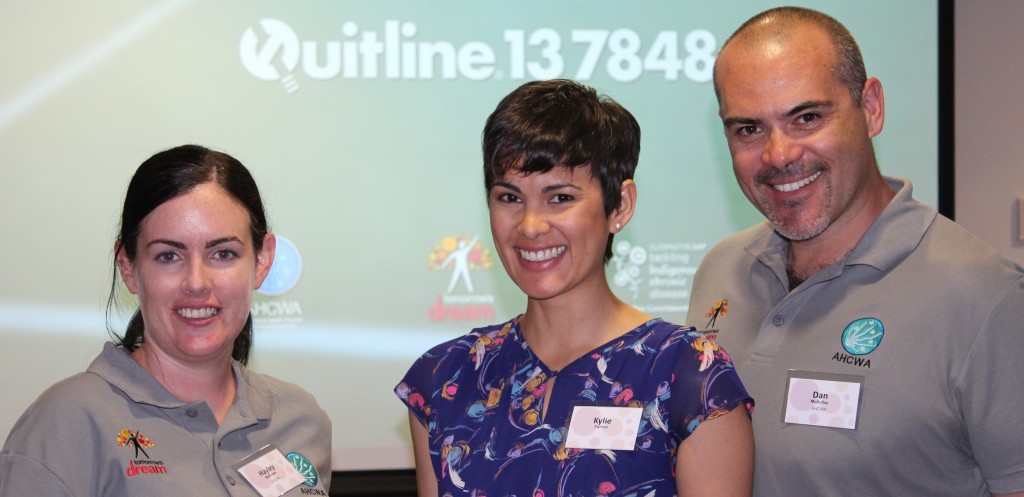 The Tomorrow's Dream health promotion campaign was launched at the Aboriginal Health Council of Western Australia (AHCWA) recently as a vehicle to help cut the rates of smoking through positive reinforcement.
The campaign is a Tackling Indigenous Smoking initiative of the AHCWA, supported by Closing the Gap, and features two television/radio advertisements and a website, featuring Noongar actress Kylie Farmer and actor/hockey player Nathan Maguire.
"It's designed to celebrate people's healthy lifestyle choices and the changes they have made to get to that point. It's about celebrating quit attempts and encouraging people to think about smoke free environments for children," says AHCWA Population Health Coordinator, Hayley Matthews.
"We try to put a positive slant on making healthy lifestyle choices rather than just warning people of the risks, but actually giving them something to look forward to and want to engage in.
"We feel that a positive approach will be more successful. People want to feel supported in their choices, and the ethos behind Tomorrow's Dream does that."
The main target audience for this program is young Aboriginals who, in turn, will reiterate the campaign's main message to their families. The program also puts an emphasis on the dangers of second hand smoke.
"We really focus on mums and bubs' groups and young parents because that's such a great opportunity to not only influence generations to come, but generations ahead like parents and grandparents," says Hayley.
AHCWA Manager Population Health Unit, Dr Dan McAullay adds: "And it's an important intervention point to try and prevent exposure to children from cigarette smoke. We know that if we can reduce their exposure to second hand smoke they're at less of a risk of developing issues like Otitis Media".
So far, the program has received positive feedback from the Perth Metro region, the area it is funded to target, and in the future will, hopefully, extend to more regions.
"We'd really like to see an increase in the number of smoke free environments for children and pregnant women down the track. We'd like to see an increase of people who attempt to quit, whether or not they succeed, but if they attempt and try again to realise that each attempt is worth celebrating in itself," says Hayley.
"We're getting a lot of message recall from community groups. People are identifying with the message and engaging with it. We're seeing increasing numbers of people engage with our outreach workers and participating in their activities – we're definitely hitting a need."