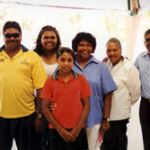 Winner: Mirika Winmar
School: Quairading District High School (WA)
We are off to celebrate our first Deadly Vibe/ DETYA Barbeque. Mirika Winmar was waiting when we arrived at Quairading District High School with our very special guest May O'Brien.
Mr Rowlie Mellor, the school principal very kindly invited Deadly Vibe and DETYA to join in with the Year 10 End Of Year Speech Day in the Town Hall.
Among various prizes for achievement and successes throughout the year, Mr Peter Henry presented several ASSPA prizes. May O'Brien presented Mirika with her prize plaque signed by the Education Minister, Dr Kemp.
May talked spoke about the Ambassador project, explaining to the students what being an Ambassador entails and what the project aims to achieve. She also highlighted the importance of the Literacy and Numeracy program.
Christine Taylor, Indigenous Education Officer from Northum joined us for the day as did Raymond Muir from DETYA in Perth. Thank you for your support.
The Deadly Vibe/DETYA Barbeque was a great success and there were smiles and full stomachs all round.
We could not have managed without Peter Henry and his team of expert chefs who took control of the cooking. Thank you to all staff and students who helped us get the show on the road. Thank you also to Edna Winmar and Sandra Henry for your patience and help. We were honoured that the following could also join us for the occasion: Basil and Linda Winmar, Winnie McHenry and Kath Yarran.