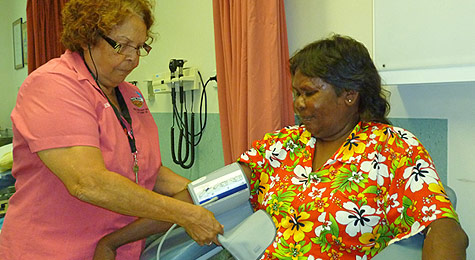 AMS of the Week
Wirraka Maya Health Service Aboriginal Corporation (WMHSAC) is an Aboriginal health care service designed to ensure its client's journey through the health system meets their medical, health, social and cultural needs.
WMHSAC originated from the efforts of Aboriginal people to establish a health service that addressed the unmet needs of Aboriginal people in the Port Hedland, South Hedland areas and surrounding communities.
WMHSAC has over 13,000 Aboriginal people registered to receive its services, 5,165 of whom are actively engaged and regularly receiving primary care, wellbeing and prevention services and programs. In 2010/2011 WMHSAC conducted more than 20,000 services within the Medical Services and Wellness Centre.
WMHSAC has 15 experienced health professionals who work together to improve health outcomes in the region. They are supported by 17 community engagement and administrative staff.
They offer a huge selection of medical services to the Aboriginal people of Hedland including Primary Care, Dental Treatment, Podiatry, Optometry, Audiology, Chronic Disease Management and Pharmacy, to name a few.
A standout program WMHSAC provides is the Healthy Transition to Adulthood program.
This program focuses on the establishment of a Pilbara Aboriginal Health Forum Youth Council and Youth Action Strategy targeting key action areas identified through community consultation.
Identified Community Youth Leaders are mentored and upskilled through regular training opportunities provided through WMHSAC to become role models within the community.
The program seeks out opportunities to link the Youth Leaders with operational roles in their communities, such as after care for young people involved in alcohol and drug rehabilitation; and navigators to support services for young offenders leaving the juvenile justice system.
Other initiatives include building youth resilience, reducing risk taking behaviours, promoting protective behaviours, providing healthy youth focused activities, counselling and support services for at risk youth; and the development of a social marketing strategy to promote healthy lifestyles, community connectedness and family values.
For more information on WMHSAC visit their website.