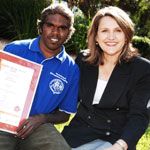 Positive Image Awards recognise the achievements of Western Australian students
Six Indigenous students from Western Australia were recently named as District Ambassadors at the 2007 Positive Image Awards.
The awards have been held for the past 10 years by the Western Australia Department of Communities Office for Youth in a bid to tackle negative perceptions of youth in the media and in the adult community. This year, there were a record 123 entries, with a total of 29 students being named as District Ambassadors.
Jaymee Chaquebor from Belmont City College was named as District Ambassador for Canning. Jaymee, a member of the Year 10 Academic Extension Group at her school, is
an inspiration to her peers. An outstanding sportsperson, she was recently chosen to participate in the first national Indigenous Basketball program. Jaymee balances her academic and sporting pursuits while organising discos and still finds time to take younger members of her school out on fishing trips.
Talisha Graham from Wongutha Christian Aboriginal Parent-directed School was named District Ambassador for Esperance. Talisha is a school prefect, captain of the Girls' Countryweek Basketball Team and a Unit Leader in the Bush Rangers Western Australia cadet program. She also excels in her studies. Talisha has resisted the negative peer pressure in her community and continues to strive for excellence in school. Her next adventure will see her travelling overseas to volunteer at an orphanage in Bangladesh.
From Fremantle-Peel's Mandurah Senior College, Ezra Jacobs-Smith is a participant in Follow the Dream – a program for Indigenous students who want to go to university. Ezra was a runner-up in the NAIDOC Awards Scholar of the Year, coming second only to a mature age student with a Masters degree. Proud of his heritage and passionate about his career goals, Ezra's recent work experience shadowing an engineer at Alcoa impressed his employers so much they have decided to create a new cadetship for the Follow the Dream program.
Carlise Grant, from Oombulgurri Remote Community School in the Kimberley, is a strong female leader in her Aboriginal community, a dependable and caring family member, and a diligent student who takes great pride in her achievements. As the only TAFE student in Kununurra, Carlise sets a positive example for her peers through her resilience and independence.
Richard Noddy from Mount Magnet District High School in the Mid-West is the Head Boy at his school and is always willing to give one hundred per cent. An award-winning school-based Trainee, Richard is an avid participator in school carnivals and, in a town troubled by substance abuse issues, an inspiration to other young Indigenous boys in his community. Richard's perseverance and dedication have certainly paid off, making him the first Indigenous male student to graduate from Mount Magnet District High.
Benjamin Limerick from Tom Price Senior High School was named District Ambassador for Pilbara. Ben is described as a humble, thoughtful and responsible young man who understands the impact and influence his actions have on others. As a mentor to younger students at his school, a leader at Bush Camp where he passed on traditional knowledge to other students, and a constant contributor to school activities, Ben has played a pivotal role in setting a good example for others. He will soon undertake an apprenticeship after becoming the first student from the Wakathuni Community to graduate from high school.