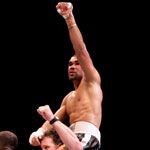 You only need a few moments speaking with Willie Kickett to understand just why they call this talented young boxer from Western Australia "Cool Willie".
It's less than a week before one of the biggest fights of his young career, and Willie couldn't sound more relaxed.
Having grown up in Balga, Perth, and coming from a family of boxers, the Super Featherweight fighter is now officially the Next Big Thing on the Australian boxing scene. He's even been labelled by legendary trainer Johnny Lewis as the best home-grown boxing talent since Lionel Rose.
But things could all have turned out so differently for this 21 year-old after he gave the sport away in his late teens, only to find his way back to the boxing ring by way of a chance meeting with Perth trainer Craig Christian.
That meeting occurred, of all places, outside a Peth nightclub where Willie had just been involved in a fight.
"I was working at the time and one day I just gave it away," Willie says. "I was training for a little bit but not fighting or anything.
"I had just been in a fight outside a nightclub in the city, and Craig walked up to me afterwards and asked me if I wanted to come to his gym.
"I just started again from there,"
Craig instantly saw an opportunity to harness Willie's fighting ability and channel it in a more positive direction.
Craig is also the trainer of WBA Featherweight world champion Chris John, and thought Willie could provide his star fighter with some good sparring.
After asking Willie to spar Chris as a southpaw (left handed) rather than in his natural orthodox stance, Craig was in awe of Willie's ability to hold his own against the world champion. It was from that moment that Craig knew he had a future star on his hands.
Willie has since gone from strength to strength at Craig's gym, where he enjoys regular sparring with Chris and world-rated African boxer Jackson Asiku.
"It's given me heaps of great experience," Willie says. "Training with Chris – I don't think anyone in the world trains like Chris. He's different, you know? It's been really good for sparring and learning."
Having made the most of his return to the boxing ring, Willie is also more aware and more grateful than ever on the effect boxing has had on his life.
"Every part of it is challenging," he says. "It's done a lot for me – it's kept me away from doing a lot of things my cousins are doing. You know, alcohol, drugs and that kind of stuff . Plus I'm getting to see the world.
"It's changed me a lot. Otherwise I would have gone down the wrong path. Boxing has really helped keep me away from all that."
After making his professional debut in March of last year, it wasn't long before Willie started generating some major headlines. An impressive natural mover with amazing hand speed, in less than five pro bouts he was already being touted as a future world champion.
"I don't really read what they say about me in the papers," Willie says. "Craig reads them and gives them to my dad, but I hardly read them.
"I'm just taking things one fight at a time and I don't let it get to my head."
Early this year, Willie suffered a major scare when he fell and accidentally put his hand through a glass window. With the tendons in his hand severed, it was originally feared he wouldn't be able to clench his first properly again, but he has now fully recovered from the injury.
Having amassed an impressive record of 10 fights for 10 wins, including a unanimous points decision over two-time world title challenger Tommy Browne in December last year, Willie now faces former world champion Gary St Clair as the main preliminary fight on the Jeff Fenech/Azumah Nelson under card in Melbourne this month.
The bout shapes as a classic contest between the veteran and the up-and-coming young star, and Willie says he is unfazed by St Clair's experience and boxing credentials.
"I'm still training the same way for this fight as I do for any other fight," he says. "I mean, my sparring partner is a world champion, you know? I wouldn't put Gary in the same class as Chris."
While is he very confident and always relaxed, Willie refrains from giving any pre-fight predictions.
"I'm just going to out there and whatever happens, happens," he says.
Living up to his moniker once again, Willie says his motivation for boxing is to show Aboriginal kids just how far they can go, and Willie is intent on doing just that in his own unique style.
"Yeah I'm pretty relaxed," he says. "I've always been like that."