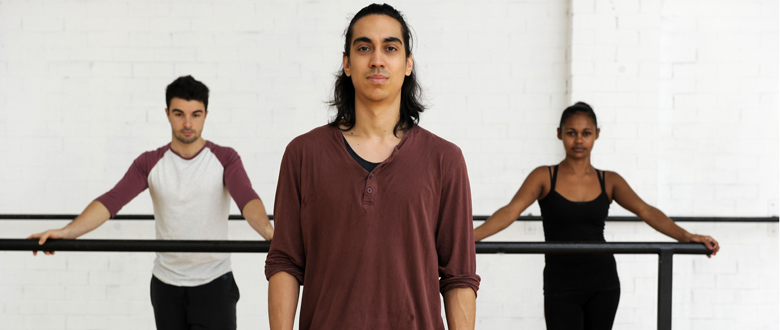 A series of short Indigenous documentaries filmed and produced in Western Australia will premiere nationally on ABC1 for NAIDOC week.
ScreenWest partnered with ABC TV in collaboration with Joined Up Films and four Western Australian Indigenous filmmakers to produce four documentaries capturing the theme of 'Seasons'.
"It is a source of great pride for the Western Australian Government to be supporting this initiative. We're particularly proud that three out of four films are regional stories," says CEO of ScreenWest, Ian Booth.
"The applicants were encouraged to think outside the usual documentary format and explore new approaches to telling stories that will engage and entertain a national audience."
The four mini-documentaries will screen on ABC1 during NAIDOC week at 6:50pm. Ngurra Wanggagu will screen on Monday, 8 July, Unspoken – Tuesday 9 July, Magic Quandong – Wednesday, 10 July and Muster Up – Friday, 12 July.
"ABC1 is proud to be part of this initiative aimed at supporting new and emerging West Australian filmmakers," says ABC TV's Head of the Indigenous Department, Sally Riley.
First time filmmaker, Perun Bonser, explores the artistic compatibility between Aboriginal and contemporary Australian culture in his dance documentary Unspoken.
Perun began his dance training at NAISDA Dance College and graduated with a Diploma in dance. He then went on to work with Bangarra Dance Theatre between 2008 and 2011. After studying digital media he toured with "Breathe" and "Impulse" for the Edinburgh International Festival.
"For Unspoken, my goal was to explore and find an exchangeable dance language between Aboriginal and contemporary Australian dance cultures," says Perun.
"The biggest challenge during this process was contemporising traditional Indigenous dance to the point where it was no longer considered traditional, without compromising movement quality.
"I believe through the choreographic process, collaborating with the dancers in finding an Indigenous based movement dialogue that was culturally appropriate for non-Indigenous dancers, was the most adequate solution.
"Very rarely do indigenous and non-indigenous dancers collaborate and perform together. However through this film, the collaboration between the two cultures was received with celebration."
Perun constructed a 'movement dialogue' for his film to convey his vision.
"If you consider a dialogue words that form sentences and sentences that form paragraphs, then movement dialogue is a move that forms a dance phrase, that forms a narrative, purely through movement," he says.
Although it was an 'enduring' process, Perun is thrilled with the end result and hopes it will give traditional Indigenous dance more recognition.
"The film was my way of trying to legitimise contemporary Indigenous dance as a dance style in the same way that ballet and jazz are," says Perun.
"They're taught in mainstream dance colleges, and I would like to see contemporary Indigenous dance taught in the mainstream colleges. I wish Unspoken could've been longer but in the end I'm very happy with the result. Under the circumstances I think it represented the concept extremely well."