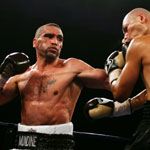 Despite being knocked to the canvas early in the fight and needing to overcome a nasty gash above the right eye, Anthony Mundine was the clear winner last night in his bout with Japan's Crazy Kim.
Held in Newcastle, the bout was Mundine's first outside of the super middleweight division in which he was twice crowned world champion.
The gash above Mundine's right eye was opened in the first round and the heavy hitting Kim who boasted 23 knockouts also felled Mundine in the third.
Mundine quickly jumped back to his feet however and immediately went on the front foot, cleary pushing for a knockout win. Despite Mundine using his superior hand speed to good effect, Kim proved a cagey customer and was able to withstand Mundine's barrages through the middle rounds.
While the cut above Mundine's eye worsened in the eighth, he finished the final two rounds strongly to earn a unanimous point's decision win.
"All of the greats have been down, so it's not how you go down but whether you respond," Mundine said. "It was a wonderful left hook. I got a little bit lazy but I've got to give him credit. It was a great 10 rounds."