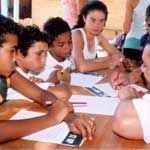 Mobile pre-schools may help solve the Indigenous education crisis in the Northern Territory, says Darwin researcher, Dr Nick McTurk of Charles Darwin University.
Workable solutions are needed to address appalling rates of literacy and numeracy among Aboriginal children, but they must rely on strategies that mesh with the social and cultural needs of Indigenous people, he said.
"Education providers including the Northern Territory government and CDU are recognising this and are taking a proactive look at what works for communities," Dr McTurk said.
Dr McTurk, who will present his findings to the Australian Population Association Conference in Alice Springs this week, stressed the importance of governments factoring in the transient nature of many Indigenous people.
"This creates distinctive challenges for traditional education models," he said.
As governments warm to the idea of versatile pre-schools staffed by mobile teachers, Dr McTurk said these mobile schools would work well with the tendencies of parents who relocate families according to the time of year, or due to sorry business and ceremony.
"An intense intervention is needed early in the lives of many Indigenous children to break the burdens of morbidity and low levels of life passed from generation to generation," Dr McTurk said.
"Exploring what form this early intervention should take and how it can be delivered in a socio-culturally appropriate way is crucial."
The APA's 14th biennial conference takes place this week.