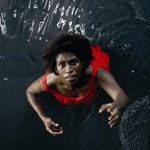 Bangarra Dance Theatre continues to resonate world-wide as an acclaimed contemporary dance company of unique style committed to the traditions of Indigenous culture.
In 2008 Bangarra Dance Theatre presents Mathinna, an exhilarating brand new work by Stephen Page.
Inspired by a young girl's journey between two cultures, Mathinna traces the history of a young Aboriginal girl removed from her traditional life, adopted into Western Colonial society to be ultimately returned to the fragments of her original heritage.
Young Mary was born on Flinders Island, Tasmania in 1835 to the Chief of the Lowreenne tribe, Towgerer, and his wife Wongerneep. As a young girl, Mary captured the hearts of Governor Sir John and Lady Jane Franklin and was adopted into their household at Government House in Hobart. Mary was renamed Mathinna. Somewhat a charitable project, Mathinna was raised with the Governor's daughter Eleanor and was described as a 'very nice, intelligent child'.
When Governor Sir John and Lady Jane Franklin returned to England, Mathinna was sent to the Queen's Orphan School in Hobart where she struggled to adjust. When Mathinna was sixteen she left the School to rejoin her people at an Aboriginal station at Oyster Cove, south of Hobart. At this settlement Mathinna's life came to a disheartening end.
Mathinna became the archetype of the 'stolen child' and, in this brand new work, Bangarra Dance Theatre recreates her powerful story of vulnerability and searching in an era of confusion and intolerance.
As a prominent Australian Indigenous arts leader and following his recent honour as NSW Australian of the Year, Bangarra Dance Theatre Artistic Director Stephen Page evokes the traditional Indigenous spirit in this latest full-length work, Mathinna.
MATHINNA DATES AND VENUES 2008
check with venues for tickets
Melbourne
16 – 24 May The Arts Centre Playhouse
Opening night Friday 16 May
Brisbane
29 May – 7 June QPAC
Opening night Thursday 29 May
Canberra
19-21 June Canberra Theatre
Opening Thursday 19 June
Wollongong
2 – 4 July IPAC
Opening Wednesday 2nd July
Newcastle
11 – 12 July Newcastle Civic Theatre
Opening Friday 11 July
Sydney
22 July – 23 August Drama Theatre Sydney Opera House
Opening Tuesday 22 July