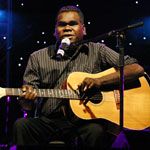 Presented in association with Skinnyfish Music
"Yunupingu has a voice which is so beautiful and so emotion-laden that it invests every song with a passion and pathos which are quite overwhelming." Sydney Morning Herald
Never before has there been such buzz and excitement around an Indigenous musician as there is surrounding Geoffrey Gurrumul Yunupingu. Both critics and fans have lauded him with praise for the subtle, inexplicably natural power of his music and voice.
A former member of Yothu Yindi and now with the Saltwater Band, Geoffrey has been blind since birth. Hailed "a real revolution in Aboriginal music", his solo performances are a rare treat that should not be missed.
Geoffrey's debut album Gurrumul adapts the songs and stories of his Gumatj clan into beautiful contemporary music. He may perform in his native tongue of Yolngu, only two songs are in English, but there is "something so timeless and so direct that it is impossible to remain unmoved".
Geoffrey's solo excursions highlight his amazing talent as a singer, songwriter and musician. A powerhouse of musical creativity he is a master of the guitar, drums, keyboard and dijeridoo – not to mention his beautiful singing voice which can "touch the heart and soul".
"Gurrumul has the voice of an angle that pierces to your core. His music is pure and simple and his talent is indisputable." John Butler
Gurrumul, which entered the ARIA charts at No. 21 and topped the independent charts, highlights the tremendous talent Geoffrey has to offer Indigenous music in Australia, and indeed, the world.
Named male artist of the year at the 2007 Northern Territory Indigenous Music awards, he has performed for the Queen, supported Elton John on his recent Australian tour and will play for the Pope at World Youth Day celebrations.
Now Sydney audiences can experience this extraordinary talent up-close, in the intimate and beautiful acoustic environment of The Studio as part of the annual Message Sticks Festival. For two shows only Geoffrey will perform tracks from Gurrumul accompanied by his collaborator of 10 years, ex-Killjoy Michael Hohnen on double bass, and guitarist Francis Diatshenko.
"His voice is equally unorthodox, a sweetly spiritual instrument with a hypnotic tone." The Australian
SEASON DETAILS: Geoffrey Gurrumul Yunupingu
Dates/Times: Friday 11 and Saturday 12 July at 8.15pm.
Venue: The Studio
Tickets: $35, $25 concession or $30 when purchased with Message Sticks Film Pass
Bookings: (02) 9250 7777 or online at sydneyoperahouse.com
Duration: 70 minutes
Information: Online at www.skinnyfishmusic.com.au