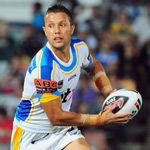 Gold Coast Titans co-captain Scott Prince is likely to finish his career at the club after signing a four-year contract extension that will keep him on the Gold Coast until the end of 2014.
The 29-year-old will be 34 when his deal expires, but hasn't ruled out playing beyond 20014.
He also has intentions of moving into a coaching role with the club.
Prince joined the Titans for their inaugural season in 2007 and has been a revelation for the club, enjoying the best form of his career while playing on the Gold Coast.
He says his only goal for the next five years will be to bring a maiden premiership to the Gold Coast.
"I've been here from when it started with the Titans. The thought of retiring here excites me and I've got the opportunity to do that now," said Prince.
"It has been special to be a part of something new and I'm looking forward to playing a role in building a culture that will live on at the club.
"I'm happy with the direction we're heading and that stems from the coaching staff right through to the players. They are a great bunch of blokes and I love playing alongside them.
"Knowing that the family is happy on the Gold Coast was also a factor. They are loving the lifestyle here and the people are great.
"That's just an added bonus to what we are doing on the field."
Titan's chief executive Michael Searle described the signing as another "important piece of the puzzle".
"Scott has been an integral member of the Titans since day one and was one of our key signings before the club was even up and running," said Searle.
"Given Scott's standing in the game, his decision to re-sign gives the club important stability for the future both on and off the field.
"He is a Queenslander and he fits in with the long-term vision of the club.
"He is the ultimate professional in everything he does and it gives me great pleasure to know that he will be working alongside the Titans of both today and tomorrow."
While living on the Gold Coast played a big part, Prince said that coaching staff and current playing list were important factors in making the decision to extend his contract and he believes the Titans have the troops that can deliver the club its first premiership.
This season the Titans have gotten off to a great start, winning four of their opening five matches.
Prince has played 195 NRL games since making his debut for North Queensland in 1998.
The Mount Isa product has played 41 games for the Titans and is the club's leading point scorer with 172 points.
Prince and Thurston battle for rep honours URL: