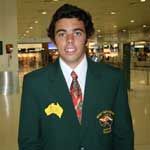 Skiing, staring and speaking German – it's all part of the experience for Jake Lee.
Jake Lee has achieved a lot for someone who's only 19 years old. This hard-working, proud blackfella from Forster in NSW is the younger brother of Deadly award-winning triathlete Brett Lee, and is an accomplished athlete in his own right, having represented both NSW and Australia in kayaking.
He's also a top student. He was the school captain of Great Lakes College and won the Minister for Education Award for Excellence in Education after excelling in his HSC, and was recently named the Great Lakes Young Citizen of the Year.
Right now Jake has taken the big step of moving to another country for a year, as part of the Rotary Exchange program, and is now living with a host family in Austria.
"I chose Austria because I'm so keen to see Europe and Austria is so central," Jake says. "There's something about the culture and history that captivates me. I find myself walking around Vienna just staring at all the buildings.
"I also wanted to learn another language. It's just that nobody told me that German was so hard!"
During the week, Jake attends a commerce academy and studies IT in a class where all the work is done on laptops. School starts at 7:45am and finishes at around 1:15pm.
"The hours are hard to get use to, and there are some things I didn't do back in Australia, like standing up every time a teacher walks into the classroom!" Jake says. "But my classmates are awesome. They take care of me and make sure I know what's going on.
"The only subject that I can understand is English! Everything else I just sit there, trying to learn the language. They say it takes about four months before you can start to talk back and hold a conversation."
"There have been so many firsts here already," Jake says, clearly loving the experience. "I was terrified before I left, but there are 17 of us Aussies over here and we all look out for each other. And my host family are the nicest people I've ever met. They help me with my German.
"I've had some moments when people have talked to me and I have no idea what they're saying. But then there are other times when I feel so proud of myself because I've managed to struggle through a conversation."
Being a natural athlete, Jake is keen to get into sport while he's in Austria, and is currently waiting to hear back from a local kayaking club. In the meantime, he's tried skiing ("it was a disaster!") and ice-skating for the first time.
"I need to do some sport because of all the amazing food they are feeding me," he says. "And I think I might go insane if I don't touch a paddle for a year!"