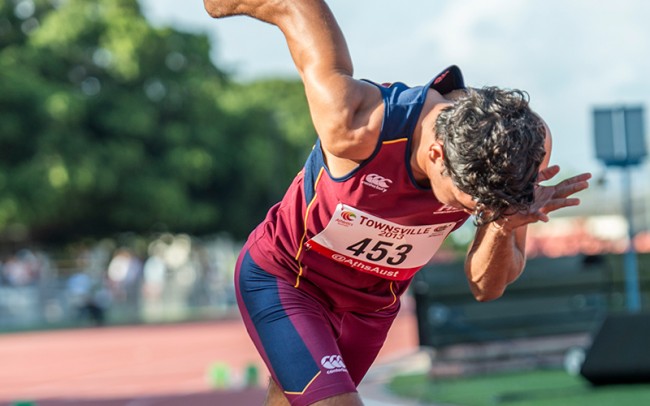 For most young men, being offered a contract in the NRL and reaping all the fame, glory and money that follow would be a dream come true, but Joshua Robinson turned it down because he has his mind set on something else: Olympic stardom.
Joshua, 18, is a track athlete and he's pretty darn good at it, hence the 400m runner being offered an athletics scholarship at a US College, ranking No. 2 among Australia's under-20s 400m runners and being compared to
Cathy Freeman.
A Murrawarri man, Josh was tracked down by the athletics coach at Mississippi State University – one of the country's most illustrious sprint institutions. The coach sent him a message through Facebook offering him a scholarship after seeing his impressive run at last year's Australian All-Schools titles in Townsville, where he clocked 46.83. Needless to say, Josh was over the moon.
"It made my day. I was super surprised. Nothing has ever happened like this in our family, so it's a big achievement," he says.
"The only track and field athlete I know is Steven Solomon and he's an Olympian, so to be offered [a scholarship] is pretty special."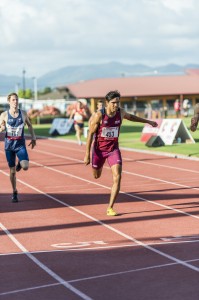 Josh was also offered scholarships by the Pennsylvania State University and Kansas State University – a promising sign considering the competiveness of US athletics. Now with the 2014 IAAF World Junior Championships approaching there could be many more offers on Josh's plate.
"I'm just going to keep my options open, then after the World Juniors I'll see what happens from there. The championships are in America so no doubt there'll be more scouts there for colleges. If I perform well, I'll get more offers," he says.
When most students finish high school they think of going to University or finding a trade, but Josh is contemplating his life on more of an international level.
"At the moment I'm aiming for the 2018 Commonwealth Games and if I'm ready for the 2016 Olympic Games in Rio, I'll have a crack at that," he says.
"This year I'm going to stay in Australia. I've got nationals in a few weeks and hopefully from there I'll gain selection in the World Juniors team to go compete in Oregon, US. Then hopefully next year I'll go to college, but first I have to sit a few exams and get a high enough score to be accepted," says Josh.
The exams he is referring to are the SAT exams, a standardised test for most college admissions in the United States. Josh says he has to think of his education, too.
"School comes first. You need a really good family base and you have to keep your grades up, then anything is possible," he says.
When asked why he turned down a three-year contract from the North Queensland Cowboys, Josh explains that, although he loves rugby league, his passion for athletics came out on top.
"There are so many possibilities with athletics compared to rugby league. The money for league at the moment is insane but with athletics you get to travel the world," he says.
"I love that it's an individual sport. I do love team sports but the individual part of it is a lot better because I can just rely on myself instead of other people."
Standing 181cm and weighing 72kg, Josh is built for the sport according to his coach and presents similarities to Olympic Champion, Cathy Freeman. He's being dubbed as the "male version" – flattering to say the least.
"It's a really big call, I'm not going to lie. To be called the male version is pretty special. When I first started I was good for my age. I didn't think I'd get to where I am now, but over the years I've persisted with my athletics," he says.
With opportunity coming at him by the truckloads and a bright future, Joshua is a still a humble young man, saying that he wants to reach his capacity while earning the respect of his fellow countrymen.
"I want to be a respected athlete within the Australian community and be the best I can be," he says.
Fact File:
• Joshua's personal best in the 200m is 21.15 seconds, and 46.83 seconds for the 400m. (Cathy Freeman's fastest time was 48.63; seconds and the current world record in men's 400m is 43.18 seconds held by Michael Johnson)
• Joshua was once signed to NRL side Manly Sea Eagles.
• He turned down a three-year contract with the North Queensland Cowboys to pursue athletics.
• He's only just been introduced to weights meaning he could become even quicker on the track.
• His idol is Usain Bolt.
• His coach, Neil McCoy, says that Josh is as good as anyone he's ever seen.
• He currently ranks No. 2 among Australia's under-20s 400m runners.
[Pictures: EYE SEE IMAGES – Patrick O'Kane]