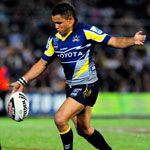 Cowboys star Matt Bowen has been ruled out for the remainder of the 2008 NRL season and will undergo a radical knee operation which involves implanting artificial cartilage.
After undergoing off-season knee surgery and another micro clean out recently, Bowen has struggled to get back to full fitness and will now look toward surgery to save his career.
Set to take place in four weeks time, the operation was described as "fairly new" by North Queensland doctor Kevin Arlett and would involve six to nine months of rehabilitation.
Having taken cartilage from Bowen's knee during his precious surgery, the tissue was sent to Western Australia to be harvested in an artificial matrix.
The artificial cartilage will then be implanted into Bowen's knee. Bowen's North Queensland teammate Ty Williams underwent the same procedure in 2007 and has fully recovered.
Although hopeful Bowen would return to the field for the start of the 2009 campaign, Arlett could not guarantee the former representative star would begin the season.