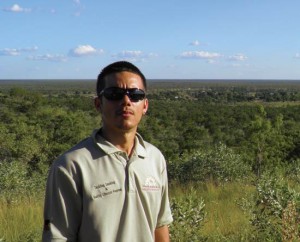 Healthy lifestyle worker Jason Roehl is passionate about improving his community's health through education on the harm  that tobacco smoke causes and the benefits of healthy eating and physical activity.
Healthy Lifestyle Worker Jason Roehl is passionate about improving his community's health by educating about the harm that tobacco smoke causes, and the benefits of healthy eating and physical activity.
Working under the Healthy Lifestyle Program based at Wuchopperen Health Service at Manoora in Queensland, his role is to plan health-promotion activities in the community.
Jason, who identifies with the Wagiman people of the Daly River in NT, has been trained in many healthy lifestyle programs and uses the skills he's gathered to work with the community.
"The team I work in is passionate about improving the health of the community. We first identify the community's needs, then implement a program that includes education to schools, nutrition programs and community fun-day events," he says.
"There are so many opportunities to engage with the community. I find the best engagement strategies are hands-on approaches and activities that people enjoy."
The team at Wuchopperen also works with young people to get the message out about the importance of living a healthy lifestyle.
"It's important our young people are guided in the right direction to improve their health. We need them to understand they are important and to make sure we are there for them, but learning for young people begins in the home where they get the essential life skills to live a long-lasting, healthy life," he says.
Wuchopperen Health Service has had good success rates with their programs.
"With the assistance of a workplace smoke-free policy, the rates of staff and community smoking have dropped dramatically. Outside the workplace, our team has worked with the community to implement successful Family Fun Days, Deadly Fun Runs, nutrition programs and also Traditional Indigenous Games," he says.
"One particular highlight was implementing smoke-free zones and strategies at the Laura Dance Festival in 2011."
Jason is firmly committed to practising what he preaches and tries to stay fit and healthy.
"I've always looked after myself. I eat good, healthy food and drink plenty of water. I'm always active and I treat my body with respect like our ancestors did. I have family members who have chronic disease, like Type 2 Diabetes, and knowing this makes me more determined to stay healthy."
Jason says that your attitude is important when it comes to staying healthy.
"You alone can control your attitude and I choose to have a positive attitude in my life. If you have a good attitude to getting healthy, then when you work with community members they will soak up your enthusiasm and also be proactive in getting healthy and staying healthy." Before becoming a Healthy Lifestyle Worker, Jason was a tour guide but he wanted to get involved in improving Indigenous health.
"I really feel that I have made a difference in the community through delivering effective healthy-lifestyle education and programs. It's good to travel through your community and people recognise you from the work you've done. Some come up and say, 'Hey, I just wanted to tell you I've quit smoking'. Hearing these stories is enough motivation for me," Jason says.
While Jason identifies with the Wagiman people, he feels he belongs to many cultures. He spent his childhood with family in the Kulin Nation of Melbourne and later graduated from Worawa Aboriginal College in country Victoria.
After studying in Adelaide to become a tour guide, he worked at the Melbourne and Sydney Royal Botanical Gardens. After moving to Cairns he worked at Tjapukai Aboriginal Cultural Park before moving to Wuchopperen.
"I'd like to put a shout-out to all my family around Australia," he says.