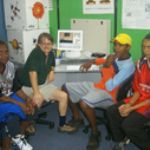 Everyone needs a little hand now and then, especially when it comes to schooling. Many times, a good tutor can make the difference between an average grade and an exceptional one. Whether it's a subject that your child is struggling with or simply one they want to improve in, tutoring is a great way to help a child's education and future.
A great way for Indigenous people to access top-notch tutoring, either for your child or for yourself, is through the Aboriginal Tutorial Assistance Scheme (ATAS). ATAS provides additional tutorial help for Indigenous students at primary school, high school, TAFE and university, as well those in training programs.
Tutoring under ATAS can be provided individually or for small, after-school groups. And while for primary students tutoring is available for literacy and numeracy-related subjects, secondary students can receive more specific tutoring for the subject they most require help with.
Under ATAS, a school student can have up to five hours of tutoring in a week and at a tertiary level for two hours per subject. When it gets to the tough end of term and exams set in, up to fives hours of extra tutoring can be covered under ATAS.
A meeting between students, parents, a tutor and an Education Officer from your closest Indigenous Education Unit can be organised to determine if the tutor is suitable. Usually, tutoring takes place at the student's home, however other arrangements can be made so that tutoring can take place on school premises, at a homework centre or at the tutor's home.
To apply for ATAS, an application form has to be filled out and returned to a local Indigenous Education Officer. To find your nearest Indigenous Education Unit, visit www.dest.gov.au/schools.indigenous/ieda.htm. As funds are limited, each student who applies for ATAS is assessed, with assistance going to the students deemed to be most in need. For students who are under 16, parents usually apply on the student's behalf. The application form can also be handed in at any Department of Education, Science and Training office. Student will usually know within two weeks if they will be able to receive tutoring.