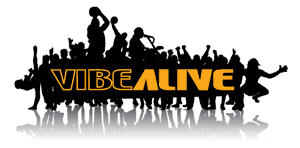 The final countdown is now on for Vibe Alive Bendigo on 25th & 26th May 2011. Media are invited to attend a number of Vibe Alive events around the festival. All will take place at the Prince of Wales Showgrounds (Bendigo Showgrounds) , 42-72 Holmes Rd, Bendigo, VIC 3550. Media are invited to attend:
The Community Thank You Night
Tuesday 24th May 6:30pm -8:30pm
Venue: Prince of Wales Showground, Holmes Rd, Bendigo
Finger food and refreshments will be provided and there will be special performances from our celebrity role-models Luke Carroll and Kevin Kropinyeri. The event is a chance for the Vibe Alive crew, organisers, volunteers, local council, media and Bendigo community members to get together before the 2011 Bendigo Vibe Alive festival kicks off. Finger food and refreshments will be provided.
The Vibe Alive Opening Ceremony
Wednesday 25th May 9:00am
The 2011 Vibe Alive festival will be kicking off with a spectacular Opening Ceremony, which will feature a Welcome to Country from local Elders as well as special performances by our role models. All the participating students will be at this event, and it will be an exciting way to kick-off festivities before the activities begin.
The Community Film & Concert Night
Wednesday 25th May 6.30pm (for a 7pm start) – 9:00pm
Media are also invited to the Community Concert, held on Wednesday from 7.00pm. The concert will feature performances by the students, as well as special appearances by Vibe Alive role models and a free film.
The Community Break-Off Night
Thursday 26th May 7:00pm -9:00pm
A free event for the whole community to attend and compete in is Vibe's famous break-off dance competition. This is a night where kids really let their hair down and show their moves in a break dancing hip hop dance competition. Media do not usually attend this event.
What is Vibe Alive?
Vibe Alive is a two day festival for young Australians of all backgrounds that promotes Aboriginal and Torres Strait Islander cultures and encourages tolerance and teamwork.
Vibe Alive incorporates music, sport, dance and art in a high-energy, youth-friendly setting with a carnival feel. Participants also have the opportunity to meet inspiring role models, learn about healthy living and career options and boost literacy and numeracy skills.
It is recommended people arrive 10-15 minutes prior to the starting times of all events.
For all media enquiries about Vibe Alive, please contact David Cole at Vibe Australia on (02) 48 228230 or [email protected]. For onsite media enquiries please contact Maryann Weston on 0448-341157.