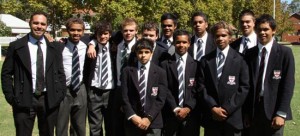 Providing Aboriginal students with the opportunity for a holistic education is a core value of Guildford Grammar school in Perth, WA.
The program has been formally running since 2005, though the school has been taking Indigenous students for about a decade.
"It really is at the core of everything the school does – it's not just tokenism. This area is significant to the Noongar people and we want to do the right thing by them," Indigenous Program Coordinator and Nadjuri man Andrew Beck says.
"We provide our Aboriginal students with a holistic education with a Year 12 finish on a high. We have students from different backgrounds, and it's my role to help them share their culture and learn from it."
The school does not set targets for the number of students undertaking the program, but rather relies on identifying the right student to take part in the program. "We are not about quantity, but quality – students who want to make a difference, change the stereotypes of Aboriginal people, and who want to make their family proud," he says.
"Most of our students come to us on a referral basis or we know of them within the community. Our former students often refer their nephews to us because they've had a good experience with the school and want to pass that on."
Andrew has significant experience working with Aboriginal youth at risk having run the Future Footprints program which is an additional support structure for Indigenous students from regional and remote areas of WA attending residential schools in Perth. The goal of Future Footprints is to support students' engagement in education and to enhance students' transition to and from school, to further education, employment or training.
He also worked with youth at risk in the community for over 10 years.
"I was a youth at risk at school and I had a teacher who mentored me through school. I then became a mentor to youth at risk in my local town because I wanted to give back what was given to me. From there I moved to managing the Future Footprints program and then became the Indigenous Program Coordinator at Guildford Grammar," he says.
"The best part of my job is seeing the changes in the boys when they come here – seeing the self belief grow and when they think they can actually finish school and make it work for them."
Guildford has an almost 100% Year 12 retention rate.
Year 12 student Kendal Budd has been boarding at Guildford since Year 8, having left his homeland in Port Hedland to attend the school in Perth.
"Attending Guildford has helped me stay at school and the more I achieve in school, the more it is reflected in what I want to achieve outside of school," Kendal says.
He's hoping to return to his community following Year 12 and undertake an apprenticeship in carpentry.
Year 10 student Kearyn Cox from Perth is a day student at Guildford. His ambition for a number of years was to get selected in Guildford's Indigenous Program. He's a keen cricketer and rugby player and school has helped him succeed in the classroom but also on the sporting field.
"I live around the area and was always interested in Guildford and hoped I would be given the opportunity to attend the school. It's a good setting and there is an excellent support system," Kearyn says.
"My goal is to finish Year 12 and go to uni to study a double major in law and sports."
Aboriginal students come from all over WA to attend Guildford.
"We've got a student here from Windom which is 3,200km from Perth. He loves it down here and is currently completing Year 12 and will probably stick around Perth and take his career further," Andrew says.
"It just underscores the distances students are from home and the way they settle in. We manage any homesickness by getting students back on country as often as we can and through cultural activities, so students are not isolated from their culture," Andrew says.
"I mentor all the students and two nights a week we offer tutors. Our education here is holistic and it's a formula that works."