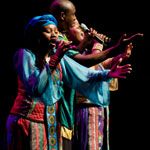 Heralded as the most exciting group to emerge in world music in recent years, the two-time Grammy Award-winning Soweto Gospel Choir is returning to Australia to tour its brand new show, African Spirit, nationally from 24 April to 25 June 2008.
A sell-out success in August last year when it premiered at the Edinburgh Festival 2007, African Spirit celebrates the strength of the human spirit and captures the beauty and passion that is Africa. Through vibrant rhythm, movement and its renowned vocal tapestry, the Choir perform a repertoire that reflects some of the history of their Rainbow Nation, songs of remembrance for the past, as well as songs of joy and praise for the present and future with a repertoire ranging from the traditional African gospel song 'Sefapano' to an extraordinary new interpretation of Bob Dylan's 'I'll Remember You'.
Under the direction of choirmaster David Mulovhedzi, Soweto Gospel Choir draws on the best talent from the many churches and communities in and around Soweto, South Africa and performs in six different languages, including English, Xhosa, Zulu and Sotho.
Since its first international performances in Australia in 2003, the Soweto Gospel Choir has become a worldwide phenomenon performing sell-out concerts at the world's greatest concert halls. In 2008, Soweto Gospel Choir will embark on major tours of the UK, Australia, Germany, Spain, Italy and the Netherlands as well as its fourth tour of the USA.
In its short but spectacular career, Soweto Gospel Choir has sung alongside superstars including Bono, Queen, Annie Lennox, Dionne Warwick, Jimmy Cliff and Celine Dion, shared top billing in Paris with South African legend, Johnny Clegg, was the support act to the Red Hot Chilli Peppers in Germany and recorded with Led Zeppelin's Robert Plant for the Fats Domino tribute album "Going Home".
The choir has sung on numerous occasions for the father of democracy in South Africa, Nelson Mandela, was the guest stars at Oprah's famous 2007 New Years party at Sun City, performed for Bill Clinton and sang Happy Birthday to its beloved Patron, Archbishop Desmond Tutu.
In 2007, Soweto Gospel Choir won its first Grammy Award for Best Traditional World Music Album (for its second album 'Blessed') and won their second this month for the same category in the 2008 Grammy Awards (for its third album 'African Spirit'). The Soweto Gospel Choir has also won the Best Gospel Choir Award at the 2005 American Gospel Music Awards and the 2003 Australian Helpmann Award for Best Contemporary Concert Presentation.
Apart from unforgettable performances, members of Soweto Gospel Choir seek to show gratitude for their own good fortune, by contributing to the lives of Aids Orphans back home in South Africa. In 2004 the Soweto Gospel Choir set up its own Charity Foundation in association with the established Aids Charity, Nkosi's Haven. Called Nkosi's Haven / Vukani (meaning to arise, do something!) the choir's Vukani is named after late AIDS activist, 12 year old, Nkosi Johnson. At the conclusion of each performance, the Soweto Gospel Choir invite audiences to donate with funds going to the many AIDS Orphans Establishments which receive no government or private funding with 100% of the funds collected through concert donations going direct to the charity. To date, Soweto Gospel Choir have raised almost US$1 million from audience donations and last year fed, clothed and housed over 600 orphans.
The Australian African Spirit tour will see the Soweto Gospel Choir perform in QLD (Cairns, Townsville, Mackay, Rockhampton, Maryborough, Caloundra, Gold Coast, Toowoomba, Brisbane), NSW (Albury, Newcastle, Sydney, Revesby, Wollongong, Coffs Harbour, Castle Hill), ACT (Canberra), VIC (Geelong, Frankston, Melbourne), SA (Adelaide) and WA (Mandurah, Perth, Bunbury). The Choir are also performing an already sold-out charity show at Mt Beauty (VIC) with 100% of proceeds going to the local Mt beauty and falls Creek CFA.
The Soweto Gospel Choir's new album African Spirit is in-store from mid-April. Voices from Heaven and Blessed also available at ABC Shops, ABC Centres and Music Retailers.
The African Spirit National tour is proudly supported by ABC Local Radio across Australia.
Tickets on sale: Monday 10 March 2008
TOUR INFORMATION
APRIL
24 Cairns Civic Theatre 07 4031 9555
26 Townsville Civic Theatre 07 4727 9797
28 Mackay Entertainment Centre 07 4957 1777
29 Rockhampton, Pilbeam Theatre 07 4927 4111
MAY
1 Maryborough, Brolga Theatre 07 4122 6066
2 Caloundra, the Events Centre 07 5491 4240
3 Gold Coast Arts Centre 07 5588 4000
4 Coffs Harbour, Ex-Services 02 6652 3888
6 Toowoomba, Empire Theatre 1300 655 299
7 Brisbane, Concert Hall QPAC 136 246
13 Mt Beauty SOLD OUT
14 Albury Performing Arts Centre 02 6051 3051
15 Geelong Performing Arts Centre 03 5225 1200
16 Monash, Robert Blackwood Hall 03 9905 1111
17 Melbourne, the Arts Centre, Hamer Hall 1300 136 166
19 Newcastle, Civic Theatre 02 4929 1977
21,22,23,24 Sydney, Theatre Royal 1300 795 012
JUNE
5 Revesby Workers Club 02 9772 2100
6 Wollongong, Regent Theatre 136 100
7 Castle Hill, The Hills Centre 02 9899 3433
8 Sutherland Entertainment Centre 02 9521 8888
10 Canberra, Theatre Centre 02 6275 2700
12 Frankston Arts Centre 03 9784 1060
14 Mandurah PAC, Boardwalk Theatre 08 9550 3900
17, 18, 19 Perth, His Majesty's Theatre 08 9484 1133
24 Bunbury Entertainment Centre 1300 661 272