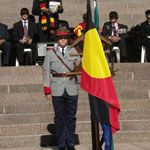 In an Australian first, National Indigenous Television will air a live broadcast of the "Black Diggers" ANZAC Day March from the Redfern Community Centre from 1pm – 2pm AEST.
Indigenous and Non-Indigenous Australians will culminate at the Redfern Community Centre again this year for the ANZAC Day March in recognition of Aboriginal & Torres Strait Islander War veterans.
The "Back Diggers" broadcast will cover the Welcome to Country at The Block, Redfern, and will showcase with the highlights of the March to St Saviours Church, Redfern.
The March will be Hosted by Lola Forrester, feature interviews by roving reporter Paula Maling and panel expert David Huggonson. The broadcast will also feature 6 short stories about Indigenous veterans, 5 of which will be narrated by Australian music legend Jimmy Little.
The stories will cover the facets of Indigenous participation within the Armed Services. Some of these covered will be Captain Reginald Saunders story; Indigenous women in the forces; the different wars Indigenous veterans saw active duty in across the generations; and the role of Indigenous peoples in the war effort in Australia.
David Huggonson was a key participant in the inaugural Black Diggers March on ANZAC Day last year, and returns this year a valuable message.
"It is very important the younger members of the Aboriginal community and the general Australian public recognise the contribution that the Indigenous population of this country has made to the defence of this nation in every war since the Boer War. Aboriginal people are still serving with the Australian Armed Forces today and this service needs to be more widely recognised." He said.
A Roll of Honour will be prepared by Aboriginal artist Adam Hill. The roll will bear names of Aboriginal and Torres Strait Islander servicemen and servicewomen who participated in the 2007 Redfern ANZAC Day events and of other Aboriginal servicemen and servicewomen will be formally unveiled during the St Saviours service.
2008 Redfern ANZAC Day program
1.00pm: Assemble at The Block, Redfern 1.15pm: March to St Saviours Church, Redfern 1.45pm: St Saviours Church Ecumenical Service 3.45pm: Service Finish