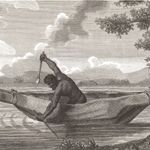 Deadly Vibe Issue 90 August 2004
Pemulwuy – The Rainbow Warrior
While the 1960s and 70s marked the peak of Indigenous protest and activism in Australia, Indigenous people have been fighting for their rights long before the freedom rides or tent embassies of the modern era.
And although our leaders of the mid-20th century might be our most well known, there is a long line of courageous Indigenous leaders who preceded them, leading all the way back to the very first contact between Indigenous and non-Indigenous people. There were battles fought by distant ancestors whose names have long since been lost in time.
One name that has endured over the years, however, is that of Pemulwuy, arguably the very first known Indigenous activist. Pemulwuy is also known as the 'rainbow warrior'.
Pemulwuy was a man of the Eora tribe, from the country that now comprises modern-day Sydney. He was about 30 years old at the time Europeans began invading Eora land. Through organised resistance, Pemulwuy battled the British head-on for 12 long years, determined never to surrender his people's freedom.
Despite constant dispatches of soldiers that were sent forth to kill him, Pemulwuy continually escaped capture and survived repeated injuries suffered on the battle field, earning him a supernatural reputation among his people. He continued his attacking raids, uniting Aboriginal clans that usually numbered only 30 or so people into large groups of up to 100 warriors that moved in co-ordinated, strategic attacks on British camps and towns.
Using their knowledge of the country to their advantage, the warriors under Pemulwuy's leadership were able to repel and even push back the Europeans in some quarters, an amazing feat considering their only weapons were spears and a fierce will to survive.
Eventually, Pemulwuy's attacking raids moved all the way into the heart of Sydney Harbour itself, and there was panic among the colony's settlers as the Eora warriors began to destroy stock and crops, and besiege British outposts in an attempt to repel the invaders from their lands.
Pemulwuy's brave resistance finally came to an end in 1802, after he was surprised and murdered by two unknown English settlers. His head was cut from his body and preserved in a jar that was sent to England as a gift for botanist Joseph Banks.
Despite the fact that Pemulway's resistance took place more than two centuries ago, he remains one of our most loved and admired heroes. His spirit has been carried on by all great Indigenous activists who have followed in his inspiring, giant footsteps.
(story 1/8/2004 end)