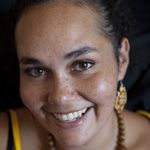 InVibe, April edition, 2010
With Anzac Day fast approaching, most Australians turn their thoughts to the brave ANZACs who fought in the war. Many of those diggers were Aboriginal and Torres Strait Islander men.
While many Australians aren't aware of the contribution that our diggers made, Katherine Beckett is determined to change that … one Anzac Day at a time. In Vibe recently spoke with her about her play 'Coloured Diggers', inspired by a poem of the same name written in honour of her great uncle Harold West.
Katherine will be performing her play on Anzac Day for the Coloured Diggers march in Sydney's Redfern.
"The March starts at The Block and ends at Redfern Park – it is getting bigger and bigger each year. It started about three or four years ago and now a few hundred diggers march. There are even more diggers down at the park because a lot of the elders can't march any more. I performed 'Coloured Diggers' at the march last year, and it got a really good response from the veterans," says Katherine.
"A lot of the Coloured Diggers weren't allowed to march in the main Anzac Day marches and that's why they created their own in Redfern. There has been very little recognition of their contribution and that's one of the main reasons they started the Coloured Diggers march," says Katherine.
It was that lack of recognition that prompted Katherine to write and perform in 'Coloured Diggers' in the hope that more Australians would begin to understand the incredible contribution of our Indigenous soldiers: "I'd like to see our Coloured Diggers march down the main street of Sydney one day or be on the Anzac Day stamps and for us to have that same celebration and complete recognition that non-Indigenous soldiers receive."
Katherine says that learning about her own family's involvement in both World War I and II prompted her to develop the play.
"I was doing some workshops down at [PACT] Youth Theatre [in Sydney's Erskineville] and we were given 30 seconds to do an improvised piece using props in the room. I grabbed a digger's hat and started doing all these clichéd digger movements. A lot of the non-Indigenous people who were watching were shocked by it and felt all these different emotions because they didn't associate diggers with Aboriginal people.
"I told my dad about it and he said, 'Did you know your great uncle was in the second World War, and your great granddad was in the first World War? It was from there that I started learning about my family history."
In the performance, Katherine plays five male characters, portraying different members of her family.
"I play my great uncle when he's young before he goes to war, then I play him during the war. I also play a sergeant and my granddad both before and during the war."
Katherine says that while some people might find playing all male characters challenging, she feels comfortable with it.
"I grew up with a lot of men," says Katherine. "My mother passed away when I was six, so my dad brought me up. I had an older brother and uncles as well. To get into character I just start thinking about my uncle and granddad and remember photos of them that I've seen. Also one of my granddads is still alive, so I watch him and his movements. He hasn't been able to see the play unfortunately as he's nearly 89 and lives out in Mudgee."
For many people it is difficult to understand why any of our mob would have wanted to fight in a war at a time when they were denied citizenship, the vote and basic human rights.
"At first I was really confused as to why the hell they would go," admits Katherine. "I've asked a lot of people that question and their answers seem to be because of what they were promised when they returned. Our soldiers wanted to look after their family and bring back money and have their own land and citizenship and that's what they were promised."
Unfortunately, these promises were never fulfilled and many of our soldiers came home only to be disappointed, disillusioned and ignored.
"The men I spoke to said they were treated like equals during the war – they were men among men," says Katherine. "There might have been the odd racist comment, but colour wasn't a thing in the war. You were there to fight so you were equal, but when they came home things changed. They were promised land and the pension, but when they came home they were either dropped off in Melbourne or Fremantle and simply told to make their own way home. They were promised citizenship, but instead they weren't even allowed to have a drink in the RSL."
Many Aboriginal and Torres Strait Islander soldiers who were awarded for their bravery didn't even receive their war medals when they returned home. However, Katherine says, for some reason her Uncle Harold did receive his medals.
"I'm meeting up with his grandkids soon to find out exactly why he received those medals. I've been working on the play for three years now and I keep finding out more information about our diggers and my family that I want to add to the play. At the moment, it's 30 minutes long but eventually I'd like it to be about an hour in length," says Katherine.
For Katherine, Coloured Diggers is a labour of love that she hopes will not only honour our diggers but also help educate non-Indigenous Australians about their huge contribution to our war effort.
"I'm just doing this for education and to let their stories be heard," says Katherine.
"I'd like to see our diggers have the same pride our non-Indigenous Anzacs have and it would be great if people could be compensated for all those broken promises or even better for those promises to come true."