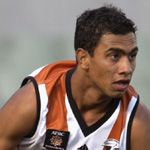 Deadly Vibe Issue 74 April 2003
Jason Roe is a very excited young man these days. He has signed a one-year contract with his favourite footy team. "I always wanted to play with Collingwood," he said. "As a kid I barracked for the Western Bulldogs until Mark West retired and ever since then I supported the Magpies."
Hailing from Darwin, Jason played his junior footy for the Nightcliff Tigers in Darwin, making his first-grade debut at the tender age of 15 before joining the Cairns City Cobras for the 2001-2002 season. A man on the move, both on and off the field, he returned to Darwin to play out the 2002 season with the Tigers and make the grand final.
After joining the rookie draft and completing the draft camp in Canberra, no less than six clubs showed interest in the 18-year-old. Consequently, he nominated himself for the 2002 AFL draft and got lucky. "I was selected by Collingwood at number 18 and couldn't believe it," he said. "I was over the moon – I didn't know whether to laugh or cry."
Playing various positions, including centre half-back, centre half-forward and ruck rover, he has no doubt about the strength of his game. "I have a big kick, a strong overhead mark and can use both sides of my body," he says.
Simply known as "˜Roey', he won't forget the first day he walked into training. "It was excellent. It was something else. I was so excited at the time", he says. "All my favourite players were there and I was sort of freaked out. I suppose I was a little bit in awe of them."
And how will the Pies go this year? "I really think we can go one better this year and win the flag. We have the players and we know what it takes to win a premiership", Jason says.
As for his own expectations, he says: "I will start the season playing for the Williamstown Seagulls, which is the feeder club for Collingwood. If I can produce some good form with them, I am hoping to play a few games in the top grade towards the second half of the year."
(Story 1/4/2003 end)