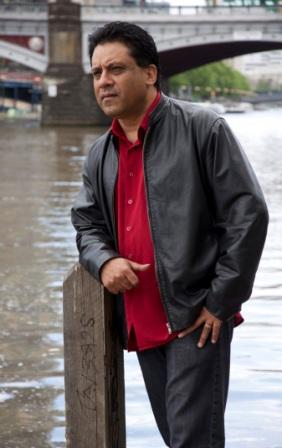 A song performed by celebrated songwriter Dave Arden was a feature of the Aboriginal and Torres Strait Islander Commemorative Ceremony held at the War Memorial in Canberra.
 The ceremony followed the ANZAC Day Dawn Service and was held at the Aboriginal Memorial plaque on the side of Mount Ainslie at the break of dawn.
This annual ceremony is conducted to remember Indigenous Australians who have served in the Australian forces since 1901. It's hosted by members of the Aboriginal and Torres Strait Islander Veterans and Services Association Australia (ATSIVSAA) – an Indigenous veteran's advocacy group.
It was a poignant and moving ceremony National Secretary of ATSIVSAA, Garth O'Connell says.
"To have Dave Arden come to Canberra as well as members of the Gunditjmara people from Western Victoria was very special," Garth says.
"During the ceremony we had kangaroos bouncing past because the plaque itself is on a large rock about 250m behind the war Memorial on the main path up to Mount Ainslie."
Garth says the annual event is about raising awareness.
"For many years our diggers were not recognised – so it's about paying them the due respect they are owed. I am very proud that both Indigenous and non-Indigenous veterans make it along to the ceremony and pay their respects," he says.
"It's a very intimate and personal event up here in the bush with didgeridoos and people talking about their experiences in the forces. Down the track we want to get our own memorial in Anzac Parade in Canberra, and we are working towards that."
Garth says it has always been hard to estimate the numbers of Aboriginal and Torres Strait Islanders who have served in the various wars since 1901.
"We know there were hundreds that served up north in Cape York Peninsula. They were never officially signed up but they were given uniforms and paid cash. We should still count them because they were on the frontline," Dave says.
"In World War One, we know there were over 1000 Aboriginal people who served, as opposed to the previously believed figure of 300-400. In the Boer war there were about 20 – mainly employed as trackers.
"In World War Two, we know there were about 5000 Aboriginal and Torres Strait Islander people who served. But these numbers are still being counted and verified.
"Torres Strait Islanders had the biggest and longest contribution in this war. Virtually every able bodied Torres Strait Islander man was used in the military – often by the US army – helping the Americans up in the Islands – helping the pilots and ships navigate the waterways to keep them on course or stop them running into reefs.
"One of the problems we face is that we have no formal way of knowing if someone was Aboriginal because they didn't ask it – they have only been asking this since 1990. It was all voluntary before that.
"I have been in the army for 17 years and I know Kooris and Murris who said they didn't tick that box because they didn't want to have others knowing – they didn't want the government to know sometimes because of the family history or whatever."
Garth says Dave Arden's song was a special feature of the day. "The song was written with Paul Kelly and it was very popular – we had people on the verge of crying – it was a very poignant and special time," he says.

Dave Arden performs Freedom Called at the Aboriginal Memorial plaque in Canberra on Anzac Day.