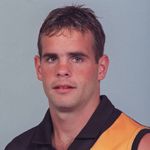 Bulking up this summer is Richmond Tigers half-forward Lionel Proctor, who says he's got a big job of bumping up his weight for next year's AFL season.
"I'm not a very big guy, so over the summer I'm eating a lot more food than usual and pumping more weights in the gym than most of the other guys in my team," says Lionel.
Proctor also known as 'The Doctor' by his team mates, is regarded as a versatile player with speed to burn and great ball skills.
We caught up with The Doctor to see what he gets up to over his summer holidays.
"My 12 week summer has been pretty intense so far and hasn't been all surf and sun. I competed for Dandenong in an all-Aboriginal football carnival where we were unlucky to get knocked out in the semi-finals, and was unfortunately unavailable for selection in the Victorian Aboriginal Representative side due to commitments with Richmond."
"I've also followed a strict diet, eating plenty of good foods including loads of fruits and vegetables. But when I get a chance to relax I like to head off to Hopkings Falls in Warrnambool with my four-year-old son, Kane."
Has The Doctor ever had a bad experience during his summer holidays?
"Yeah, when I was six I was swimming at the beach by myself and somehow ended up caught in a rip, with no one I knew in sight. I had to sing out to a man walking along the beach to run in and save me."
Next time Lionel will remember not to swim alone.
During Lionel's childhood he spent his hot summer days outdoors at Yarawonga in Victoria, where he got up to all types of activities.
"I usually went camping at Yarawonga with family and friends. I swam, played basketball and just basically enjoyed the outdoors."
Finally, does The Doctor have a summer message for our readers?
"The most important thing to remember over the hot months is to look to after your skin. Always remember to whack on some sunscreen and wear a hat when you're out in the sun."