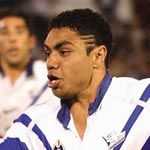 Deadly Vibe Issue 91 September 2004
Willie the whiz
Every so often, a player comes along who takes us all by surprise. Sometimes they spring unnoticed from the lower grades of less successful clubs, or arrive straight from the country leagues or metropolitan cups.
Some of them are amazingly talented players who have somehow slipped under the radar, and simply wait for that perfect moment to come out of their shell and announce their arrival in style.
This year, the revelation of the season has been the Bulldogs' try-scoring whiz, 22-year-old Willie Tonga.
While Willie was already earmarked for a bright future, he still managed to creep up on the footballing public this year when his attacking flair and overall game took him from being an unknown commodity with the potential to be great, to one of the brightest young stars of the game.
After two seasons with Parramatta, Willie signed with the Bulldogs in 2004 and found a regular spot in the centres, where he played strongly all season. And it was against those other competition heavyweights, the Roosters, that Willie announced himself to the public in grand style.
Everything fell into place that night at Aussie Stadium as Willie ran in three tries and had a hand in three others as the Bulldogs routed the Roosters. Willie's performance instantly cast him into contention for a State of Origin berth.
Not a bad effort for the quietly spoken 20-year-old from Cherbourg, a large and fiercely proud Aboriginal community north-west of Brisbane, and home to another Aboriginal league legend, Steve Renouf.
When Willie did eventually make his debut in the maroon jersey, with the entire State behind him, no community would have been cheering louder than Cherbourg when he crossed for a try in Queensland's second-game victory.
While the series didn't go Queensland's way, the brightest positive in defeat was the unearthing of a new superstar in Willie Tonga.
(Story 1/9/2004 end)