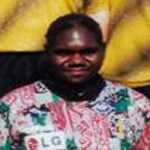 Leonie Carpenter is knocking the socks off soccer. Since taking up the sport six years ago, 'Lilly', as she likes to be known, has amazed her parents, team-mates and coaches with her talent as a goalkeeper.
Lilly, who hails from the Tiwi Islands, started playing soccer "just for fun" while attending boarding school across the water at Kormilda College, Darwin and took to the game like a natural. Snatched up by the Mindil Aces, who play in the Northern League, she quickly became known as their number-one goalie. In fact, she's so good that last year she played in the men's team to better develop her skills.
Lilly represented the Northern Territory at the national secondary schools championships in 1996, 1997 and 1998. She went on to play for the Territory at the Women's Soccer Association (WSA) national youth championships in 1999 and 2000, and was selected for the 'All States' WSA team in those years also.
Now 20, Lilly has just returned to Darwin after a stint with Northern NSW Pride in the prestigious Women's National Soccer League. This made her the first Tiwi Islander to play in the national league.
"It was good to be the first player from the Tiwi Islands," says Lilly. "I was happy to go that far and have the opportunity to play, although I think my family was more excited than me!"
Nominating Harry Kewell and Cathy Freeman as her sporting heroes, Lilly hopes to one day play for the Matildas and travel the world. But she is pragmatic when it comes to long-term career plans. Refusing to put all her eggs in one basket, Lilly has embarked on a traineeship with TIO Insurance, which includes studying for a certificate in financial services.
"I'm glad I finished school and got into the national league. Now I'm finishing off my certificate in finance and insurance so I'll have something to go on with later in life."
But back to the field and this versatile sportswoman doesn't just excel at soccer. She's also a keen basketball, netball and volleyball player! And when she gets the chance to go back to the Tiwi Islands, there's nothing Lilly enjoys more than fishing with her family.
So all of those wanting to give sport a go, why not get into soccer? If you're good with a ball and have loads of dedication, who knows, you could end up in the big league, just like Lilly!
"Soccer is a great sport. It keeps kids out of trouble, and keeps them fit and healthy as well. It's recognised all over the world so you can travel just about everywhere. I'd say give it a go, because you never know where it can lead you."