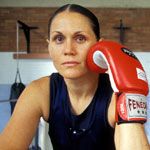 It might be illegal in New South Wales, but elsewhere in Australia female boxing is winning over competitors and fans alike. Deadly Vibe surveys the fast-growing sport and talks with Australian bantamweight champion Michelle Grantham.
ROUND 1: GIRLS WITH GLOVES
As an aggressive contact sport, boxing has always had its supporters and detractors, its heroes and victims. Muhammad Ali, regarded by many as the sportsman of the 20th century – not to mention the greatest boxer ever – is now living with Parkinson's disease. Whether the debilitating condition was brought about or exacerbated by the one million or so punches he weathered during his astonishing career is a moot point. But even Ali himself has indicated that that may well be the case.
Regardless, boxing continues to attract legions of young people with fire in their fists. And just like football, boxing has been the means by which generations of Aboriginal men have risen against the odds to achieve great things and make a better life for themselves, from Jerry Jerome to George Bracken to Glen Kelly. In 1967 Lionel Rose couldn't vote or be counted in the Census. But when he won a world title in 1968, he was quickly named Australian of the Year.
That's great for the fullas, but what about those chicks who have little or no interest in netball and would rather throw a punch any day? Predictably, the recent expansion of amateur boxing to include women has caused quite a stir.
Some argue the sport is far too dangerous for women to participate in. After all, they say, women have different bodies to men, in part because they're designed to bear children – what if a female boxer took part in a match not knowing she was pregnant? Others disagree, asserting that boxing is a great way for women to build self-confidence and self-discipline, and to develop and maintain physical fitness.
Thirty-four countries now have a recognised female boxing program, following the International Amateur Boxing Association's decision to officially sanction women's amateur boxing back in November 1994. This trend has spread to Australia where all States and Territories, excluding New South Wales, now permit women to don the gloves and go three rounds in the ring.
The growing sport saw the first-ever female world titles take place last year in Pennsylvania, USA. One of those who took part was Australian bantamweight champion Michelle Grantham, who made it through to the quarterfinals.
ROUND TWO: AND IN THE RED CORNER … MICHELLE GRANTHAM!
Based in Perth, Michelle Grantham is really making a name for herself in women's amateur boxing. The 32 year old first became interested in the sport eight years ago as a way of improving her fitness, training long and hard in her local male-dominated gym.
Once the sport took off in Western Australia Michelle realised it was time to take her love a little more seriously. And we mean serious. In official competition for only 18 months, she has already represented Australia twice in the sport – once as captain of the women's team, no less – in addition to taking the national title for the bantamweight division.
"Boxing takes a lot of strength and determination," explains Michelle. "I train twice a day – running and sprinting in the morning followed by weights, skipping and sparring sessions at night. I also make sure I include yoga and meditation in my training program so I can wind down and relax."
Michelle is now in training to defend her title at the Australian championships to be held in Melbourne this month. If successful, she will go on to compete at the Oceania championships in April and at the world titles in Turkey in October.
To be a successful boxer Michelle believes that, as well as strength and determination, you need loads of support. She considers herself lucky to have heaps of support from friends of both genders and her family, including her 13-year-old son and nine-year-old daughter.
"I do receive the odd criticism," she notes, "but it only makes me stronger and more determined to do well. Some people just don't understand that this is what I love to do. It's a great sport, and I would really recommend it to other women."
As far as Michelle is concerned, the benefits of boxing are many. Through the sport she has met all manner of different people, travelled to and competed in foreign countries, improved her self-confidence and sharpened her focus. Now she finds these qualities are helping her in job at Perth Children's Court, where she is an inspiration to troubled young girls caught up in a lifestyle of crime and drugs.
Ultimately Michelle would like to get involved in the management and training aspects of women's boxing, passing on her knowledge and sharing her enthusiasm for the sport. Vibe wishes her every success in the future, both in and out of the ring.
ROUND THREE: GIRL POWER, GRRR!
Of course, you don't have to go head to head in the ring to enjoy the physical benefits of boxing. Just by getting involved in classes at the local gym you can work on improving your strength, flexibility, cardiovascular endurance – and girl power!
Workout programs that combine elements of boxing, kickboxing and aerobic exercise such as KickBoxercise, Boxing for Fitness and Aerobox are very popular for both guys and girls. As well as keeping you fit, these programs teach practical self-defence skills that you can take away with you. It's a great way to get started, and who knows – you might just get hooked on the perfect hook!
For more information on amateur boxing in your State or Territory go www.sportnet.com.au/boxing/national.