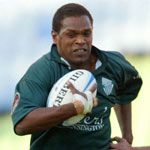 Willie Gordon was one of the brightest schoolboy stars on the Australian rugby scene in 1997. Completing his senior schooling at St Ignatius College, Riverview, where he was awarded a scholarship for athletics, Willie switched to rugby union and has since gone on to represent his state and country.
He was a member of the NSW A Team and represented his country in the Australian Sevens Team all around the world.
Willie is currently playing for the mighty Randwick Rugby Club, based in eastern Sydney, and has just signed a contract with the ACT Brumbies, runners-up in the 2000 World Super 12s competition. Willie will be a real striking force for the Brumbies in the 2001 World Season.
Name: William Gordon
Nickname: Willie
Date of Birth: 10 September 1979
Place: Townsville, North Queensland
Height: 179cm
Weight: 84kg
Club: Randwick Rugby Club
Position: Wing
Marital Status: Single
Occupation: Trainee marketing officer
Hero: Mother (Dixie Gordon)
Other Interests: Touch football, cricket and basketball
Sporting Achievements
1996 NSW 200m and 400m athletics champion.
1997 Australian Schoolboys
NSW Schools Rugby
Greater Schools
Warringah Sevens
ARL Coca Cola World Sevens – Aboriginal Dream Team
1998 Australian team member in the Argentine 7s
NSW Under 19s
Australian Under 19s
NSW A Team.
Randwick Rugby Club first grade
1999 & 2000
Australian Under 21s
NSW Under 21s.
Randwick Rugby Club first grade
2001 ACT Brumbies