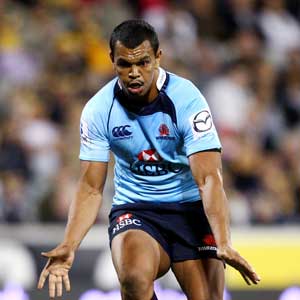 When most footballers switch clubs, according to them it's usually for every reason fathomable but the money. But, really, who ever believes it? While fans may get upset when a long-serving player heads to a rival club for better money, it's nonsensical to expect players in the fully professional modern era to adhere to the out-of-date ideal of sticking with the club that graded you – purely out of loyalty.
And so, it was refreshing to hear Kurtley Beale come straight out and announce his intentions to take up a big-money contract (rumoured to be around $400,000 a season) from the Melbourne Rebels, as well as his motivations behind it, without a hint of a smokescreen.
Kurtley has, to date, played his entire career at the Waratahs, the club that developed him, graded him and helped turn him into a household name, so it came as a shock to many when news broke about Kurtley's defection to the Rebels. However, Kurtley says the new deal can help set him up for life.
"I'm really excited," he said. "Coming from the outbacks of Mount Druitt, a young Aboriginal boy who didn't really have the privileges of other kids."
He also believes the move to Melbourne and away from friends and family in Sydney will present him with the challenge and opportunity to grow as a person and to become more independent.