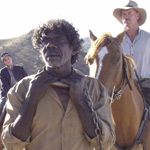 Deadly Vibe Issue 96 February 2005
Making Tracks
An inborn understanding of the land gives Aboriginal trackers an ability to see what others cannot.
Many of us have seen the role of the Aboriginal tracker depicted in feature films such as Rabbit Proof Fence and The Tracker, an d t here are many more historical accounts of trackers being used for different reason throughout the last 200 years. For example, trackers were used extensively by Native Police units that operated in the early 1900s.
Tracking skills come from an innate knowledge of country, which is something that existed within Aboriginal culture many years before white settlement. The skill was simply utilised for different purposes once Europeans arrived.
While Aboriginal trackers an d t heir knowledge of the land was often vital to the early European settlers, the significance of the tracker remains just as strong in certain parts of the country today, particularly in the Northern Territory.
Craig Ryan is the acting superintendent at Alice Springs police station and has worked alongside Aboriginal trackers for over 15 years. During this time, Craig has worked with up to 20 different trackers. Currently the Alice Springs police have a list of around 20 trackers who they regularly work with.
"The role that the trackers play is crucial," says Craig. "To put it simply, they can follow people through county in a way that we can't.
"The trackers are always older-aged men and women. In fact, the women are sometimes better trackers than the men."
In the Northern Territory, trackers are required in a range of different situations.
"Trackers are used mainly for finding missing persons, such as in the Peter Falconio case (an English tourist who went missing, presumed murdered)," says Craig.
"They are also used for finding escaped criminals who are at large " people who have escaped from prison and are on the run.
"Sometimes people have a car accident in a remote area an d t hen go wandering away from their car injured and in a daze. The trackers are then brought in to help fin d t hem."
During his years working with trackers, Craig has manage d t o pick up a few of their secrets, but to be a successful tracker it takes a lifetime of knowledge and understanding.
"I have learned some things from them over years, just from watching, but it is a skill that you have to use constantly," he says.
"It often takes over 30 years to develop these kinds of skills, and you would nee d t o be using them every day."
One of the most famous cases involving trackers in the Northern Territory was known as the Larry Bo y Case, which occurred in the late 1960's. Larry Bo y was a station hand who had committed a murder an d t hen fled. The police called in Aboriginal trackers who successfully tracked him all the way down into the eastern escarpments of Arnhem Land where he was arrested.
Aboriginal trackers were also consulted during the infamous Azaria Chamberlain case, where a little baby girl was taken from her tent by a dingo. Her mother was accused of murder. Despite finding some crucial evidence, trackers were unable to locate a body.
Trackers were employed full-time by the Northern Territory police right up until the late 1980s, when they began to be phased out. After this happened many of them went on to become Aboriginal Community Police Officers (ACPOs)
(story 1/2/2005 end)