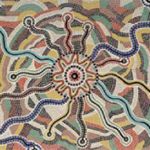 Indigenous Australian artists of all ages and ability are being encouraged to use their skills in artistry and story telling in this year's Cancer Council Victoria Arts Awards.
The Cancer Council is calling for entries in the Indigenous Visual Art category of the Arts Awards, an annual event that provides an opportunity for people to express their cancer experiences artistically.
Works can include painting, photographs, craft or sculpture and can represent someone's own experience with cancer, or that of a loved one.
The Outstanding entrant for the Indigenous Visual Art category will receive $1,000 cash, and selected artworks will be displayed in an exhibition which tours Melbourne and regional Victoria.
"Cancer can be difficult to talk about in the community, and this award gives people an opportunity to express their personal stories in a way that makes them feel comfortable," said the Cancer Council's Aboriginal Education Program Coordinator Peta Reynolds.
"These awards bring together people who have been touched by cancer, while also raising awareness of the support services and resources available at the Cancer Council," said Ms Reynolds.
"Cancer is a major health issue for all Australians, especially in Indigenous communities, so raising awareness about accessing information about how to prevent and detect cancer is vital," added Ms Reynolds.
Bronwyn Razem, a respected artist from the Victorian Indigenous community will judge the Indigenous Visual Art Award in 2008.
Dates: Calling for entries NOW
Closing Friday 4 April 2008
Contact: For an entry form and more information call
1300 65 65 85, visit www.cancervic.org.au/artsawards or email [email protected]