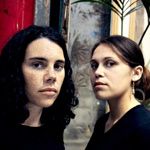 Stiff Gins are a young, exciting three-piece acoustic group with stunning vocal harmonies. Nardi Simpson, Kaleena Briggs and Emma Donovan met in 1997 while studying contemporary music in Sydney. The diversity of their musical backgrounds results in a vibrancy and freshness expressed through their vocal arrangements. And now they have a Deadly to their name, for most promising new talent.
Emma comes from a respected musical family and is a well-known country music singer in Tamworth and beyond. Kaleena has been recorded by Gadigal Information Services for Koori Radio's Yabun CD – a compilation featuring Indigenous young people. Nardi has been trained in both classical and contemporary styles and is a talented arranger and composer. Together the girls represent a myriad of Aboriginal experiences and are indicative of the vitality of contemporary Indigenous life.
By using the name Stiff Gins, they are reclaiming a derogatory term for an Aboriginal woman and transforming it to mean 'proud, talented black woman'.
Stiff Gins have had a really busy 12 months since they won their first band competition in 1999. They performed at Survival this year, released an EP titled Soh Fa and performed at Hemispheres as part of the Olympic Arts Festival. From the Deadlys, Stiff Gins head to Noumea to perform at the Pacific Arts Festival.
Congratulations Stiff Gins – and…reach for that morning star!
Deadly Sounds Single of the Year 2001: Stiff Gins – "Morning Star"
After taking out the Deadly for Most Promising New Talent at last year's awards, Stiff Gins returned to collect Single of the Year for their impressive "Morning Star".
"It was a pretty amazing feeling," recalls Kaleena. "It's just the best feeling, to receive acknowledgement from your own people and to know that they enjoy what you do."
Nardi Simpson, Kaleena Briggs and Emma Donovan have enjoyed much success since forming while students at the Eora College in Sydney, and now have a debut album, Origins, to their name. While Emma has since left the group to pursue her love of country music, Stiff Gins are set to continue making beautiful music.
"We will be touring Australia over the next couple of months, visiting cities and country towns and promoting the album," says Kaleena.