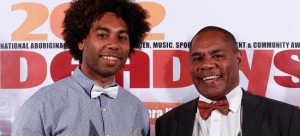 John Corowa's long career in Aboriginal health was recognised at the 18th Deadly Awards when he became the 2012 Aboriginal Health Worker of the Year.
"Receiving the Deadly was a great achievement for me and a very humbling experience. I was proud and honoured to be recognised after 15 and a half years in Aboriginal health," John says.
John is the Regional Manager for the Australian Government funded Indigenous Health Tackling Smoking & Healthy Lifestyles Program, Closing the Gap Program for the Wide Bay Region of Queensland. His work in the community has been outstanding in the 18 months he has been in the role.
"We try and work with men's and women's groups. We also hold cultural healing days, touch carnivals and community days where we promote local health services to the community.
"We work with the community, from the ground up so that the community gets what it needs."
Through his role, John and his staff have organised innovative community health promotions and activities to tackle smoking and promote a healthy lifestyle, including Cultural Healing Days across the region, the Deadly Choices Touch Carnival, Women's Health Information Nights and the Murri Factor to showcase new talent in music.
He began working in Aboriginal health when he studied as an assistant nurse. From there, John worked in nursing homes and then went on to become the Aboriginal Health Liaison Officer at Logan Hospital.
"Aboriginal Health Workers are vital to the community. The mainstream health system is not always easy for Aboriginal people. There are sometimes language barriers, but when you walk into a hospital system and see the smile on an Aboriginal person's face when you visit them, you know you are breaking ground and building trust."
John enjoyed the Deadlys, which was particularly special given his son, musician Marcus Corowa, also took home a Deadly for Most Promising New Talent in Music.
"I'm not sure that has happened before, that father and son both received Deadlys, but the whole night was really exciting for me," John says.
"And I got to mix with all sorts of celebrities."
John plans in the future to begin his own health business providing advocacy, mentoring and community engagement.
"I would like to stay in the health arena and continue to utilise the skills I've gained during my career, particularly community engagement because if you can't engage then your program won't be successful."
If he has a health message to get out to readers, it would be this: "Have your health checks, then we can go from there. We can manage your chronic disease or prevent it, but you must have your health check because it is the foundation of everything else we can do to improve your health."