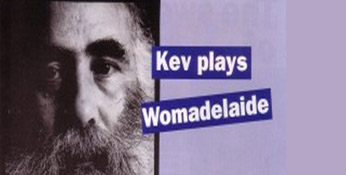 Two of Australia's best known musicians are scheduled to play at this year's Womadelaide, to be held on February 28, March 1 and 2 in Adelaide's Botanic Park.
Christine Anu and Kev Carmody will be on the bill, together with musicians including Salif Keita, Loudon Wainwright 111 and Fundamental. This is the fourth Womadelaide .
Womad, as it is called in England, was conceived there 12 years ago by Peter Gabriel and Thomas Brooman. Their objective was to find a way of promoting music that did not fall neatly into the mainstream rock and pop category. The festival now takes place in locations all over the world. Some are one offs; some, as in Australia, have become regular events.
Womadelaide, originally part of the Adelaide Festival, now takes place in off-festival years. The Festival has developed into an important platform for indigenous and non-indigenous artists alike – last festival, Christine Anu, Bangarra, Tiddas, Rough Image and the Yolngu Dancers from the NT all took part.
Deadly Vibe recently spoke to an excited Kev Carmody about the prospect of playing his first Womadelaide.
"I've heard so much about the broad cross section if indigenous based music at the Womad festivals. I've played at in Granada in Spain and it was just fantastic to see that culture up front. The other great part is having the opportunity to play with all those other artists. It's great to put all the musical heritages together. It really lifts it into another dimension. In Granada, the first five rows in the audience were filled with African musicians who were fascinated by what we were doing. "
For Kev, another positive feature of Womadelaide is that it attracts a different type of audience.
"The music brings so many people together that appreciate it. Hopefully there will be a women's contingent, which makes a pleasant change from the boys club of rock gigs. And you get the children coming along, and the elders and you get all the dancing as well. It's a different vibe. It's much more of a complete music experience. It's educational for the children. It's really positive."
However, Kev's not so sure about playing further overseas festivals.
"I don't know. I seem to get homesick before I even get on the plane. But I've had so many invites to Ireland that there's a chance I may go this year. It would be great to get across there because my granny's mob came from Ireland."