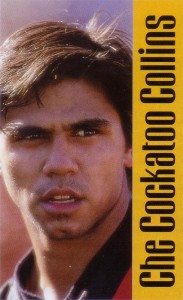 Che Cockatoo Collins is fast, and he's fast becoming Essendon Football Club's star player. Possessing a talent for the game that thrills the crowd, he appears to be an important part of the Bombers' future.
Twenty two year old Che comes from Cairns. He started playing for Essendon in 1994 when he was recruited from Port Adelaide.
Che replaced Michael Long when Michael was out of action with a knee injury. It was a tough call as Michael Long had just won the Norm Smith medal for Best on Ground in 1993 Grand Final.
Che effortlessly rose to the occasion. In his first three games he kicked a total of eight goals and continues to kick goals in almost every game since.
With Michael Long out, Che was the only black face on the Essendon side.
Deadly Vibe recently caught up with Che.
'I play a better game when I have other Aboriginal people in the team,' Che said.
'If you grow up in a place where you have a lots of black faces you get used to it. It's a bit of a culture shock when you haven't got any around you at all.' he added.
'Essendon intends to be a bridge for all of the rural Aboriginal kids coming through.'
'Essendon is trying hard to be seen as a good club to play for.'
Che is often asked by fellow team mates why Aboriginal people hug their opponents and talk to each other after the game.
'It is just a natural thing, you've got to say hello. They just don't understand.'
Che is now twenty two years old and loves the game.
'There are a lot more Aboriginal people playing in Victoria.' Che says.
Keep your eye out for Essendon's Number 9, Che Cockatoo Collins. He is a star player and just beginning his football career.