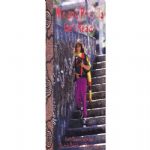 A great books program for primary school students, which started in New Zealand 10 years ago, has arrived on Australian shores.
The Books in Homes program was originally developed by Alan Duff, the Maori author of Once Were Warriors, when he realised that many students who weren't interested in reading came from bookless homes.
Alan decided to "break the cycle of booklessness" by inspiring children to start reading. But it wasn't as easy as it sounded. First of all, Alan discovered that kids from disadvantaged communities don't like getting second-hand books. They also don't like being told what to read or where to get the books.
Yvonne Falzon, CEO of the Alan Duff Charitable Foundation for Books in Homes Australia, says the program got the go-ahead in Australia after a pilot study in northern Queensland and the Northern Territory in 2001. Over eight months, 92 schools and their students received 77,000 books.
The Books in Homes program works like this – each term a selection committee lists 48 books that students can choose from. The list includes picture books, novels, non-fiction, drawing books, how-to books and special interest books.
Each student picks three books in each of three school terms that are theirs to keep. They have their name put onto the book, are given a waterproof book bag to keep them in, and receive their selections at a special book-giving ceremony. Role models come to the ceremony to talk about the books that inspired them in their career, and to give out the message that reading is cool.
The pilot went so well that the Books in Homes program is kicking off in Term 4 in all schools in northern and western NSW (the Murdi Paaki ATSIC region), with the help of the Department of Education, Science and Training and the NSW Department of Education and Training.
" These areas were selected because they don't get a lot of resources," says Yvonne. They are also areas with a high Indigenous population – Yvonne points out that 25 per cent of books selected by the committee are by Indigenous authors.
Next year, the books program is expected to spread to Queensland and South Australia.
Evaluations of the program in New Zealand found there were unexpected benefits to instilling a love of books in children. "Because the books become theirs, students develop respect for other people's property," says Yvonne. "They start to see the value of ownership. They also found there was a dramatic reduction in truancy and vandalism."
For more information about the program, go to www.biha.com.au.