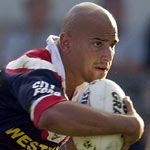 Deadly Vibe Issue 91 September 2004
Hegarty joins Souths
After six impressive seasons at Sydney City, in 2005, potent attacking player Shannon Hegarty will join the Roosters' arch-rivals South Sydney. At Redfern, Shannon will link with other Indigenous players, Owen Craigie, Lee Hookey and Joey Williams, to form a line-up that has many Rabbitohs fan hopping with excitement.
(Story 1/9/2004 end)
Succeeding in the NRL requires more than mere physical and mental fitness. Vibe talks with the very grounded Shannon Hegarty and tips the young Rooster from Mackay to join the ranks of our Aboriginal sporting elite.
"When you're out there on the field and you make a break or score a try, the crowd goes off – it's just unbelievable. I don't think there's a better feeling."
"I'm now living the dream that I had when I was younger."
"I'm, pleased to be here, I love playing for the Roosters and I know that I made the right decision in coming here."
1572
Last year's National Rugby League (NRL) competition was regarded by many as one of the toughest years on the field in decades. With the number of teams having shrunk to 14, and more money (and pressure) in the game than ever before, each team was desperate to secure a place in the finals series.
One such team was the Sydney City Roosters. A foundation club that started out way back in 1908 (as Eastern Suburbs), Brad Fittler's barnyard squawkers hadn't been doing so well of late. The Roosters' last grand final was in 1975 (against St George Dragons) and they were acquiring a reputation for being 'chokers' – playing well all through the series, but crumbling under pressure towards the end.

When the finals series came around last year, however, the Roosters started to show some new fightin' feathers. Captain Fittler was in fine form, as were Matt Sing and Luke Phillips. There was new blood in the form of Bryan Fletcher and Craig Wing. And there was a young rookie from Mackay who was quietly making his childhood dream come true. His name? Shannon Hegarty.
"I couldn't believe it," grins Shannon, thinking back to the weeks before the grand final. "I didn't have any time for myself. The media was always there at training, or else they were ringing up wanting to do a story. It was just unbelievable. I never imagined that I'd be in a grand final in my first year of first grade."

The night before the big game, the team bunked down at the Park Royal in Parramatta. Shannon roomed with his centre partner, Matt Sing. "I remember being more nervous than excited," says Shannon "Later on in the night I felt a bit sick, but when I woke up the next morning I was feeling fine."
Going into the grand final the Roosters knew they would be fighting their toughest battle of the year, coming face to face against the NRL's mightiest team – and competition favourites – the Brisbane Broncos. The Broncos were regarded as having the strongest defence in the league, led by hard-hitting Gorden Tallis and Australian prop forward Shane Webcke.

But as far as Shannon was concerned, that was nothing compared to the terror of playing against his opposite, centre Tony Carol. "He's a big boy!" Shannon exclaims. "Every time you run at him you expect a hard hit. And let me tell you, if you're not ready for it, he's going to hurt you real bad."
From the kick-off, Shannon wasted no time in making an impact. Within 10 minutes he had made a break, slicing straight through the defence and going in for an early try, taking a handful of Broncos over the line with him.
But what seemed to be a dream start to the game turned out to be a nightmare as the referee disallowed the try, claiming Shannon was held up over the line and didn't get the ball down. That moment would prove to be the turning point for Shannon's team. As the game continued, the Roosters fought in vain for a victory, with new player Craig Fitzgibbon even scoring a try. However, in the end the Broncos were just too strong, running away with the game 14-6.
Regardless of the scoreboard, however, Hegs was a big winner. By being on the ground and going head to head with the toughest in the world, Shannon sent out a message, loud and clear, that he had arrived. And in 2001, neither Shannon nor his team are going to be happy with second place. "After a bit of a slow start to the year, we're all back into the match groove. We're fit and mentally tough."

Born in Brisbane, Shannon spent his entire childhood in Mackay, northern Queensland. Oscillating between athletics and football during his teenage years, he eventually decided on the latter. After all, that was the game his hero Steve Renouf (aka 'the Black Pearl') played. "I really looked up to him as a child," Shannon says of the former Bronco. "I never actually got to play against him. When I started playing first grade, he shot off to England to play league over there. It's a bit disappointing, but that's life I guess."

The biggest footy competition up north for non-government schools is known as the Confraternity Shield. In 1996 Shannon competed and it was here that his talent was spotted by Roosters selectors. The following year, Shannon packed his bags and made for Sydney.
Being a country kid from Mackay, he admits to having been a little shocked at the antics of the fast-paced city. "When I first got down here I didn't have a car and I didn't know where the hell I was. I remember walking up and down the same street everyday because I was too scared to explore. I was homesick, too. My first phone bill was about $500!"
Although it reads like a fairy tale, Shannon didn't just saunter into first grade like that. It was going to be a long journey up the grades to get to where he eventually wanted to be. "The Roosters had given me the opportunity to come down and try my luck, and it was up to me to do the rest. So I stuck to my guns and trained hard." Eventually it paid off and Shannon was selected for first grade in 2000.

He wasted no time in showing his teammates what a Murri fulla from up north could do. In his first year of top-draw league, the strapping 21-year-old outside centre scored no less than 18 tries, finishing just behind leading tryscorer Nathan Blacklock from the St George/Illawarra Dragons.
Since that crushing grand final defeat, Fittler's mob have been training intensely. For Shannon that means rising at 6am for a big weights session, and then heading out to the oval to practise kicking and catching – all before breakfast! After Weet-bix and fruit, it's back out to the field for some more running around, then off to the clubroom for a team pep talk.
So how does Shannon relax? Well, he enjoys catching up with old school friends. "It's always good to get together with mates that you grew up with. If I get the chance I like to get back to Mackay for a week or hang out with my girlfriend. We recently went to Hayman Island for a week, which was great, but I don't think I'll be going back there anytime soon – it was really expensive. Maybe when I retire," he laughs.

Apart from being a full-time footballer, Shannon often joins forces with other high-profile players to hit the streets and do some community outreach work. He visits schools in the club's area, talking to kids about getting involved in sport and following their goals through to fruition. It's something that Shannon is proud to be able to do.

"It's our community and they're the ones that watch and support us, they're our bread and butter, so we have to put something back into our community," he says. "Me and a few of the other Aboriginal fullas from the Roosters, Matt Sing and Dean Widders, went down to Eveleigh Street Community Centre in Redfern recently and signed a few posters and hung out with the kids. It was the first time I'd ever done something like that before, but I loved it."
While he's now a bona fide Roosters star, there are already a few stars on the team that have inspired Shannon to become the player he is today. One of them is Capt'n Brad. So what's it like playing alongside a hero? "He's the best player in the world," says Shannon. "He can do anything and I can always rely on him. He'll tell me to do one thing one week, and by doing that I'll score a try off it the following week. He's such an inspiration."

Fellow Mackay resident Cathy Freeman is also a big inspiration for Shannon. "I think it's great what she has achieved. When she lit the cauldron at last year's Olympics, it was simply unbelievable. There was nobody better they could have chosen. She's the face both of Australian sport and of Aboriginal Australia."

Shannon has a few fans himself. Roosters centre and sometime-roommate Matt Sing says Hegs is a very fast and strong player who definitely has the potential to play for Queensland in the State of Origin. "He's always looking to learn from the coaching staff and fellow players, both on and off the field."
Roosters head coach Graham Murray confirms this. "Shannon's a very good player and an outstanding athlete. He has a great attitude towards playing and training, which he backs up off the field by being a very good person."
And the rookie's talents haven't escaped the grand old daddy of Aboriginal football, Cliff Lyons. "If he puts his mind to it, I think he could go on to represent Australia," says Cliff.

That's a real possibility. But one thing at a time. Right now, Shannon just wants to honour his commitment to the Roosters, score as many tries as possible and just enjoy the feeling of having accomplished a lifelong dream. "I've always wanted to be a footballer," reflects Shannon. "I remember somebody asking me when I was five what I wanted to be when I grew up and I just said, 'I want to be a footballer'."
Â