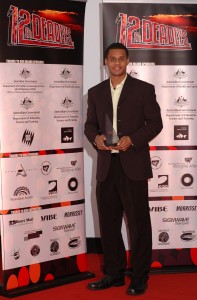 Deadly Vibe magazine issue# 116 2006
Basketball prodigy Patrick Mills could soon become one of the biggest names in Indigenous sport, and the talented basketballer will now have to make room in his suitcase for a Deadly as he heads to the United States for a shot at his dream.
It's been an eventful year for Patrick. Not only did he finish his scholarship at the Australian Institute of Sport, star for the Australian Under 21 squad, train with the senior national team, and get selected in the Under 21 World team to take on the United States, he also picked up some major awards. He was named Sportsperson of the Year at the NAIDOC Awards, and at this year's Deadlys he was awarded Most Promising New Talent in Sport, ahead of some very talented athletes.
"I'm very honored to receive this award," Patrick said. "It's a great sign that the hard work is paying off, although it still needs to be continued.
"I grew up in Canberra where I was very fortunate to live in a good community. I got a good education and had a good sporting and cultural life. Most of that hard work and effort that put me on the right track and kept me going forward came from my mum and dad.
"Just a quick note to all the young fellas out there – if you get the smallest opportunity, make the most of it. Work hard to get on the right track and make sure you stay on it."