Brisbane's number one Indigenous youth, dance and cultural festival Stylin' Up is back this month with a swag of emerging artists to showcase, plenty of youth workshops and plenty of dancing, rapping and breakin', locking and poppin' to get the crowds going.
Each year more than 15,000 people gather to celebrate the vibrancy of community expression through cultural and contemporary music and dance. This year, the festival which is held in the Brisbane suburb of Inala, is hosted by NITV's Move It Mob Style's host Ghenoa Gela alongside former Brisbane Indigenous Media Association's (BIMA) Steve Mungindi. They'll be introducing a variety of Australia's Hip Hop and RnB local, emerging and established acts. The line-up features Lazy J and Big Guy, local talent Hayden, Ceezy, Viva Lale, Mark Lowndes and a special 20-year reunion performance by '90s RnB sensation Aim 4 More.
Stylin' Up has a strong youth focus and school workshops are held in the weeks leading up to the festival, with the young people given the opportunity to perform at the festival, encouraging confidence and providing the chance to shine. Dance is also a highlight with performances by Indigenous dance troops and dance competitions. The festival also features stalls, kids' rides and activities, 3on3 basketball and fireworks.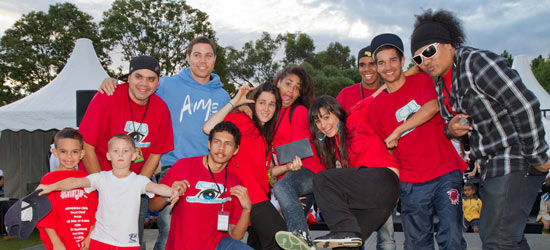 Steve Mungindi will return to Inala to co-host the festival – he lived there for 12 years before moving to Sydney this year to work as a freelancer for NITV and on community youth programs. "I'm really looking forward to going back to Inala. It's a deadly place with a lot of good people, who are family oriented and proud of their culture," he says.
"Stylin' Up has been running for 13 years now and the Elders have a lot to do with keeping it going, alongside Brisbane City Council. The festival is really unique with our young people getting the opportunity to go to workshops – dance workshops and ladies' business. The festival has a lot to do with breaking down the shame factor in our communities and gives young people a chance to shine. "There's a strong cultural focus to the day and it shows that culture is still proud and alive and we hold it close in Inala – it's a very unique festival."
A Welcome to Country and Acknowledgement will take place at Stylin' Up, from the traditional custodians, the Jagera People. The festival is presented by Inala Wangarra and their CEO, Karla Brady, says Stylin' Up is a place where youth get to express themselves. "It's the only Indigenous Hip Hop event in Australia and one place where all youth can express themselves in a very practical and positive place. It is a cliché, but young people are our future. Pride in self, pride in culture and pride in community is what makes this event so special," she says. Stylin' Up is a fun, family event for all ages, all made possible by generous contributions from Brisbane City Council, Inala Wangarra, sponsors, promoters, the Stylin' Up Community Crew, artists, entertainers and volunteers.
Stylin' Up will be held on Saturday 25 May. For more info head to www.stylinup.com.au