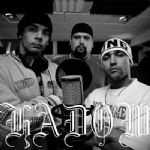 Vibe.com chats with Caper from Indigenous hip hop crew Shadows about the groups rapid rise.
So I hear you guys have been globetrotting?
Yeah, we went late last year to record our album with Pete Harrington in London. He actually helped on the E.P we recorded 12 months ago so we went over for a month and recorded the album in three weeks time.
Had you travelled overseas before?
It was the fist time out of the country for all of us so we were pretty excited but a bit nervous about the plane flight over, it was a long flight. On the way up we had to stop off in Kuala Lumpur and our flight got delayed about six hours so we found ourselves falling asleep on the floor of the airport until the flight was ready to leave.
How has recording with Pete in London influenced the sound of the album?
The whole sound of the album is completely different, just the fact that Pete is influenced by so many different styles of music over in a different country, so he instantly added his flavour to the whole production. I mean that's what we were after in the first place, something that sounded completely different. We wanted to try new things and to be really individual on the album compared to what's out in Australia at the moment.
I doubt London would see many Aboriginal hip hop crews, did you received much interest over there?
Basically we had plans to meet up with a record label but things didn't go to plan with our schedule in the studio, we were just under so much pressure to record it in time so in terms of meeting other people over there we didn't really get that chance but I guess if we had of their would have been a lot of interest because what are the chances of three Aboriginal men going to England to record a hip hop album? I don't think it has been done before.
What was the best and worse thing about the trip?
Just going to a different country and working in a more professional environment – that would be the best thing. And the worst thing was the weather of course, it was freezing over there.
How does it feel to finally have your first album out?
We're feeling relived that we finally got it done, I mean it's been a long time coming and we weren't too sure when it was going to get done or who was going to do it until Pete put up his hand up. So it's great to have it done and the success that's come along since releasing it has been overwhelming.
Sound wise, how is the album different from your earlier EP?
Compared to the EP the album is a lot more toned down and a lot more chilled out, I guess in a way you can say its quite musical, it's not the traditional hip hop sound and lyrical content is still the same. We really put an emphasis on realness through our lyrics, we're still telling a lot of stories based on our own experiences and sometimes we are the onlooker writing on behalf of other people's experiences.
What has been the best performing track off the album so far?
Well the track to look out for straight away is called "˜Reflection'. As soon as we came back a commercial radio station in country South Australia and New South Wales called Magic fm picked up that track and actually put it in what's called the TR Top 20, which allows the public to vote for their favourite songs each day and it has been in hight rotation. So the track has done a lot of us in the country area here in SA and New South Wales, and before we left the country we were the first ever Indigenous "˜Artist of the Week' on Fresh fm.
Where can people find the new album?
We're still independent and unsigned but we sell on I-Tunes. You can buy and order from our website and myspace page but at the moment we're still looking for that distribution deal to get it in stores.
What are your plans for 08? Where can people catch your shows?
Next month is going to be a busy one, we've got a show coming up this weekend in Adelaide, the week after that were going back to our hometown of Whyalla for a show and after that we're performing back in Adelaide again as part of the Adelaide Fringe Festival. We are just going to try and promote the album as much as possible through the year and start working on a second album and keep that momentum going.
To hear samples, order the album, or view clips, checkout Shadows myspace page at www.myspace.com/shadowssoldiers